Loved this rant from Brett at MarketWatch yesterday, he's more right than he knows judging by the stuff I've seen…
First, their minds have been playing tricks on them all along. The crash of 2008 did not wipe out half their savings, unless they invested all their money right at the peak and sold right at the bottom. The reality is that it wiped out a lot of illusory gains and replaced them with a lot of illusory losses. Stock prices were wrong in 2007 because they were too high, and they were wrong in late 2008 and early 2009 because they were too low.

Second, as they now know, they sold out somewhere near the lows. They were not alone. According to the Investment Company Institute, the trade body of the mutual fund industry, U.S. investors flooded the market with stocks in the fall of 2008 and the winter of 2009. From September, 2008 through March, 2009, ordinary U.S. investors dumped $114 billion worth of stock funds. They sold at absolutely the worst time.

This is not a coincidence. The stock market is "us."
To be clear, I don't see the renewed interest in stocks from the Mom & Pop investor class as a negative or a sign of a massive top – it's when they start quitting their jobs to daytrade or offering me tips at dinner parties that I get more circumspect about the meeting of Main Street and Wall Street.
But, we're not there yet, these people are buying index funds at this point and they are anything but giddy and care-free at the moment.
I nicked the below chart from Barry, it's hard to say the folks are truly "running with the bulls" just now. My best guess is we're somewhere hovering between Media Attention – "new highs!" – and Enthusiasm. Could be wrong, just a hunch.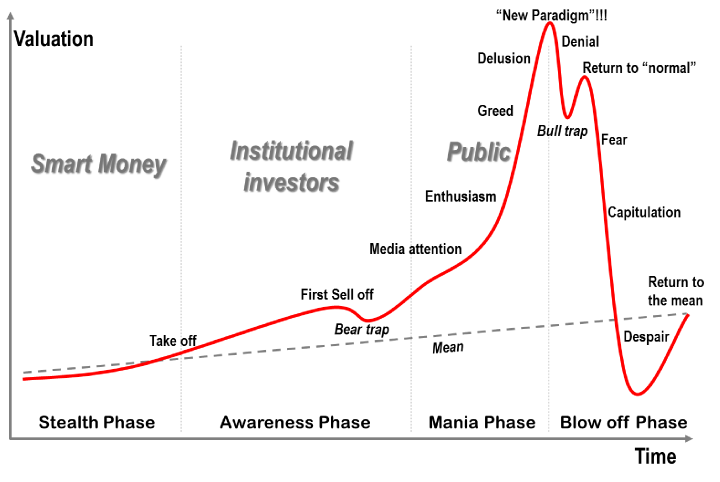 Source: