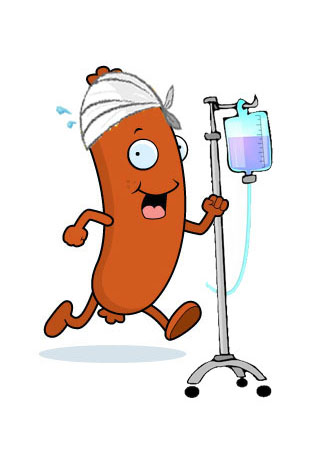 There I am, minding my own business and taking my first weekend away from the work and the kids in god-know-how-long and before you know it, I'm doubled over in gastrointestinal agony.
One moment I'm having dinner with my wife and our friends at a New Jersey mountaintop resort and the next thing I know I'm checking into the emergency room. Within a few moments, I'm lying on an MRI table, NGV tube up my nose and down my throat, four bags of morphine, steroids, antibiotics and nutrients being pumped into me via IV tubes.
Of course – how could things not be thus?
The thing about Crohn's Disease – my form of it, anyway – is that it is episodic and often a full-blown attack strikes without warning. I get these so infrequently that I almost never talk about it and I belong to zero foundations, organizations or educational email lists. I'm certainly not on a medication regime either, the side effects have always been too high a cost relative to the amount of incidences I've had.  This may change going forward – this was my third hospitalization since the diagnosis in 1998 and maybe the 15th or so attack in that time.
They say that Crohn's is perhaps hereditary, that it can be controlled (or exacerbated) to some extent by diet and that stress can trigger an attack – or at least weaken our resistance to one. I believe my recent bout has been contributed to by a combination all of these factors. When you're racing around the track at top speed and ignoring the beckoning pit crew waving you in, you're asking for it. If you've read my book, you already know that the last time this happened to me I was in the process of my escape from the brokerage business in 2010, fleeing it like like an imploding Death Star in my rear view mirror. There could have also been some element of pushing myself too hard this year as well.
And then sometimes, when you're due, you're just due – no matter what. Life has a funny way of saying "check yourself" where you're not exactly given the option of complying or not.
But here's the good news – five days with the prodigiously patient and talented doctors and nurses at North Shore Hospital (shout to whole 2nd floor Monti medical mafia) and your boy is back out on the street (and on The Street, back to the office on Monday).
I don't have any lesson here to teach anyone – I've been fairly irresponsible about taking care of my own health and allowing myself time to rest and recharge. This comes as a consequence of loving and obsessing over what I do – an total lack of desire to slow down or unplug.  I have a Jewish wife at home, so at least I can rest assured knowing this won't be allowed to happen again going forward. She and my gastroenterologist had a chat and, well, let's just say there are some things I simply won't be in charge of anymore 😉
Also, I spent the week ignoring most of the market-related news and opinion I typically swim in. Felt good, until I missed it to death. Three days.
Instead, I spent the week in the early 16th century with Hilary Mantel's novel 'Wolf Hall'
. Her protagonist, the novelized Tudor-era courtier and all-around asskicker Thomas Cromwell, spends 600 pages breaking the back of parliament, trampling the landed aristocracy, defying Europe's monarchs, hacking away at the Vatican's in-country influence and generally ripping throats out in his single-minded mission to go from small time money guy to the second-most powerful man in England. It is a breathtaking piece of writing and, given the well-established position guerre I've adopted toward my own industry, you'll forgive me the multitude of parallels and vicarious thrills I drew from it.
Lastly, I had a few breakthroughs while lying in that hospital room as well – solitude has a way of engendering that, just before one is driven completely stark-raving mad.  These were not quite epiphanies but certainly the kernels of some important things I want to get across here in the days ahead.
Other than that, I want to thank the hundreds of you who've emailed, texted, tweeted and called me this week – I'm still plowing through your notes and messages but I appreciate every single one of them, the support definitely helped me keep my chin up.
Thanks again, guys. Thanks to your encouragement (and the italian ices which will now serve as the mainstay of my diet), I'll be back to full speed shortly. A bit wizened this time around.
– Josh