Ryan Detrick is out with a new post that shows how drops in consumer confidence are actually bullish for stocks, believe it or not.
He also demonstrates how the consumer confidence readings we're getting now are in no way, shape or form even remotely similar to what we've seen at previous market peaks:
Here is one of my favorite charts I've seen in a while.  With the SPX up near the 1,550 area once again, you can see that Consumer Confidence is much lower this time around.  In fact, back in 2000, Consumer Confidence was 145 versus just 60 now.  Both times had the exact same SPX levels.  Then throw in the 2007 peak, which had Consumer Confidence of about 110 versus the 60 now.  From a longer-term perspective, this continually lower trending Consumer Confidence could have extremely bullish results for the SPX.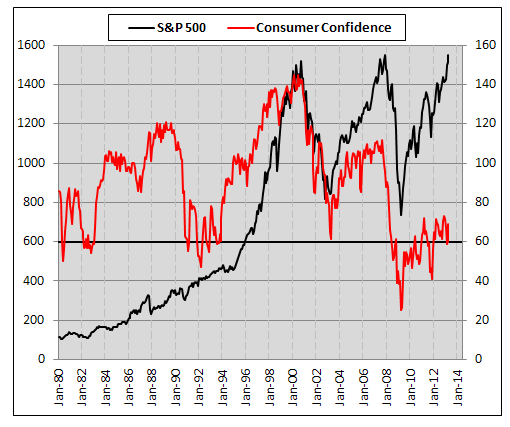 Source:
Why Low Consumer Confidence Is A Good Thing (Schaeffers Investment Research)