For the fourth year running, the Anti-Tranquility League (you know them as the 17 heads of state for Euro Zone nations, the IMF, the ECB and assorted members of several Duran Duran cover bands as well as the European Union) have collaborated yet again on another spring-ruining science fair volcano of bickering bullshit. Not content with the now-mundane pageant of street riots and firebombs they've treated us to in 2010, 2011 and 2012, they've come back this year with a whole new revue – kicking things off with an almost willful attempt at fomenting the possibility of a major bank run across the entire southern periphery.
To catch you up, in case you've spent the day sleep-watching college hoops while occasionally brushing the Cheeto dust off your stomach, on Saturday morning the approximately one million citizens and feral cats of the island of Cyprus awoke to shocking news. They were informed that all bank accounts were to receive some kind of confiscatory tax as part of a last-minute bailout orchestrated by the joint euro solidarity task force.
The leader of Cyprus – a person who goes by the name "Anistasiades" so I'm concluding it's a stripper – had cut a deal with the German Fourth Reich so that bondholders and creditors of the banks would remain whole while citizens and foreign money-launderers with deposits would take "a haircut."  No one is immune, even those with deposits at the handful of "well-managed" Cypriot banks. This is a system-wide bailout (or bail-in) and everyone gets to share in the pain. Except the Global One Percenters who will receive no such impairment on their investments in these banks.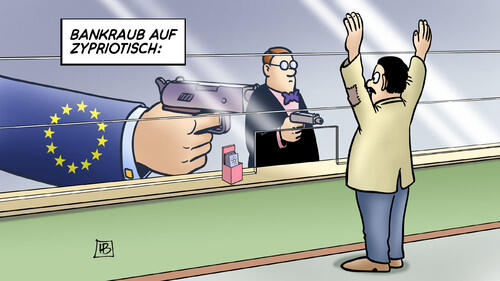 Now you may be asking "What the hell is Cyprus and why should I care?" Good question.
The thing is, Cyprus is irrelevant in real life. The total bailout is in the amount of roughly $13 billion, or what Steve Cohen calls "walking around money."  And no one is particularly shocked by this development either, Cyprus has always been the peripheral's peripheral nation since the beginning of this whole thing. Its total financial system liabilities are roughly eight times the country's total economic output, and this didn't sneak up on anyone.
But – and this is a very big but – the concern here is that, for the first time in this crisis the once-sacrosanct insured deposits are being messed with. We've not seen anything like this before. Even in Greece, where so-called Public Sector Intervention (PSI) is practically the state religion at this point – there was really never a moment in which a depositor haircut seemed likely. I can't even remember it being on the table – even while they were cramming down marks on the senior secured creditors.
There is some discussion going on now about whether or not the depositor Shawshanking was a German idea or the Cypriot government's lame attempt to placate foreign "customers" and we also don't know if this will actually make it through a parliamentary vote. But what we do know is that, once again, the terms "bank run" and "loss of confidence" are making the rounds in all of the Chief Strategist notes and the macro masturbation newsletter complex.
We don't want to hear terms like these.
As of this posting, the S&P 500 futures are indicating a relatively tame gap down of around 1%. I have no idea how things will play out, so here are the questions I'm hoping to have answered as this brand new episode gets underway…
1.  Why is anyone surprised that the Euro Crisis is back in the headlines this time of year? It's an annual rite of spring at this point – like pitchers and catchers, or the first guys in polo shirts with popped collars I see getting off the Metro North trains in Grand Central from Connecticut. D-bags. The Euro Crisis never dies, it transmogrifies. Don't bother looking it up, it's a real word. Anyway, so will we really act shocked by this?
2. Who will be the publicly-traded US proxy (read: whipping boy) for the severity of 2013's Euro Crisis sequel? Morgan Stanley again? Jefferies? Which stocks or ETFs will we beat the shit out of every time sovereign CDS spreads widen overnight?
3. How quickly will this blow over if there is no panic in Europe as a result of this? How long before Draghi comes back and deepthroats jawbones us all back into complacency?
4. Will the celebrity bears who've flipped bullish in the last two months (there are so many) all flip back to the dark side and try to pretend like they never capitulated? Because we have Google and the Business Insider archives and, umm, memories.
5. Did Jeff Gundlach really just Suge Knight the whole market once again by planting his flag on long-term treasurys a week ago? He's like an art-collecting warlock.
6. Will I be participating in any primetime "Markets In Turmoil" TV specials this spring? Because I may have to start hitting the gym in the morning before work rather than after. And by "gym" I mean make-your-own-sundae bar.
7. If this becomes the catalyst for that 5-10% correction we've all been so certain was coming, is that so bad? Isn't that what we all wanted, after all?
8. Imagine the market digests this and then rips into new all-time highs? I predict peals of laughter and a handful of policy bear suicides should that be the outcome.
9. Finally, how great is it that Twitter kicked the shit out of Old Wall Street on the rolling details and intel of this thing? The Financial Blogger Mafia is not to be taken lightly when news breaks over the weekend – props to Pawel Morski, Felix Salmon, Joe Weisenthal, Frances Coppola and anyone else I missed.
What are you thinking about as we plunge headlong into a very interesting week?