Last week's pause / drop in stocks was relatively mild and shallow as far as these things go and it was also the Most Anticipated Pullback in History.  Market participants freaked out anyway, lulled into complacency by how utterly benign and tranquil the tape has been for so long now.
I've been talking about my hesitance to add new positions for a bit over a week now, while remaining upbeat about the potential for the coming year. It's a nuanced posture, one that is not always easily communicated in the media.  The metrics we watch have been indicating a "hot stove" environment – fun to trade but not historically rewarding for initiating new longs.
Take the last two years as an example – had you done a lot of your buying in the early spring it would have taken you almost the whole year to have gotten back to even.  Markets peaked in the first quarter of both 2012 and 2011 after getting off to fast starts – spring and summer witnessed corrections and consolidations followed by the end-of-year run once it became clear that apocalypse had been averted.  Jeff Hirsch at the Stock Trader's Almanac has looked at this tendency to peak out early through the lens of seasonality, see: Like It or Not, There is a Rhythm.
With the rolling fiscal cliffs facing us beginning next week and running through May, I wouldn't be shocked to see a similar pattern for the indices play out in 2013.
But – BUT! – the recent action beneath the tape – in the oscillators and summation indexes and internals and breadth measures – leaves much to be desired for a continuation of the rally in the near-term.  My friend Ivanhoff lists some of the concerning signs that have developed in his StockTwits 50 week in review piece this weekend:
1. Distribution days are piling up.

2. Short-term volatility and correlation are picking up.

3. Dividend-paying, defensive stocks (consumer staples) are leading the market.

4. The deterioration among momentum stocks as a group has accelerated. The St50 index dropped 1.5% for the week.
and the fifth sign that the rally is on hold comes to us courtesy of JC Parets at All Star Charts. JC talks a lot about Relative Strength Index (RSI) as a measurement of market momentum. A healthy rally features underlying momentum headed higher concurrently with stock prices. And when momentum slows, like a tennis ball you've tossed in the air, the drop can be expected to happen shortly afterward.  Below JC looks at the bearish momentum divergence in the S&P 500 – prices close to highs (upper pane) while underlying momentum deteriorates (lower pane):
Take a look at RSI this week make a much lower high as prices started the week off with fresh highs before rolling over. The divergence is clear and is a major warning sign for us.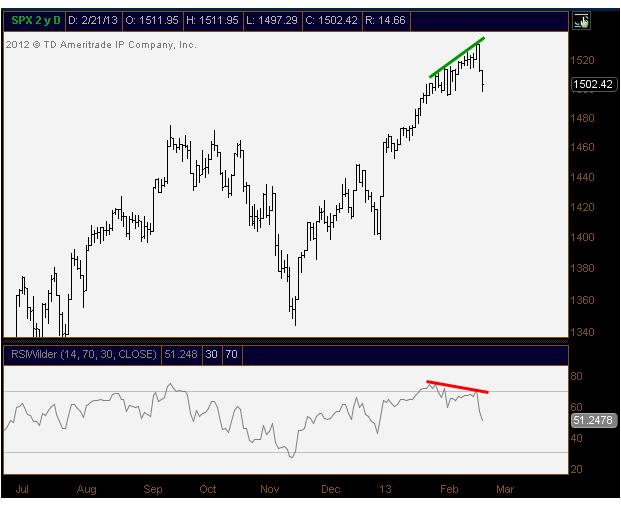 Now of course – the items that Ivanhoff cites can ameliorate quickly – cyclical stocks can resume leadership and sellers can disappear. In addition, fresh momentum can come back to bolster the tape and wipe out the above illustrated divergence.
But it is also very likely that the rally remains on hold or turns to a correction in the near-term as these issues sort themselves out.
Something to think about before throwing another tranche of buying power at a tired tape.
Sources:
StockTwits 50, February 25 (StockTwits)
Bearish Divergence Developing in S&Ps (All Star Charts)
Read Also:
Like It or Not, There is a Rhythm (Stock Trader's Almanac)