In November of 2011 I came out extremely bearishly on the gold miners, a sector that I believe to be rife with some of the worst publicly traded equities in the entire market. Amazingly, it's gotten much worse than I thought it could.
At the time, David Einhorn was buying the GDX and talking about the "disconnect" between the miner equities and the price of the metal itself. I explained this disconnect to David and I hope he listened (doubt he did lol)…
The thing you need to understand about the gold miners is that the levels of suckitude here are pretty much unparalleled in all of finance.  One of the most successful gold and gold mining investors in the world recently explained to me (off the record so I can't say who) the following (I'm paraphrasing and there will be generalities here, live with it):  "Gold miners' management teams are unique in that the C-level execs would be completely unable to run any other type of company if they were dropped into that position.  The chief guys and gals at Coke could probably manage Caterpillar or Costco once they've had the chance to familiarize themselves with the industry a bit.  You cannot say the same with gold miner execs.  The truth about gold miner people is that it's the same guys being shuffled around from one company to the next – a mine or project doesn't pan out and they simply move on to the next firm and start all over again."

Gold mining stocks used to be thought of as "leveraged plays on gold".  If that were actually true, these stocks would have done their job for investors over the last fews years as the price of gold has soared.  But these stocks have been moribund and awful, an unforgivable sin.  They've wrecked the opportunity for their shareholders through dilutive secondaries, insider sales and hedges.  $GDX is up from 56 to 60 since the first quarter of 2008, an absolute joke when you consider that the metal itself (look at $GLD) has doubled in value.  The failure of the large cap miners to capture that for holders is epic and should be a much bigger story.
Someone reminded me about this post today in light of the incredibly bad ongoing relative performance of the gold miners vs the rest of the market. For the hell of it, we ran the numbers since David Einhorn's call and my response.  $GDX, an ETF comprised of the largest global gold companies, is down 34.3% since then.  The junior miners ETF, $GDXJ, has fared even worse, down a whopping 43.7%.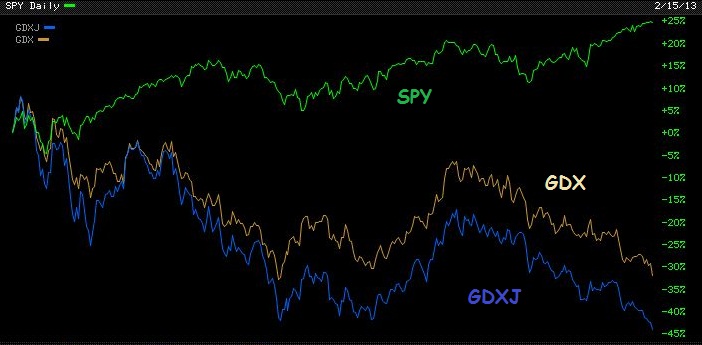 This while the rest of the stock market has screamed higher and gold itself at least has held its own (GLD is off 5% since that November 2011 post through today).
Stocks and sectors can suck for a long time, and valuation disconnects can and will persist. If Einhorn had a technical analyst on staff with the authority to keep him out until a legitimate sign of a bottom or trend change was evident, he'd probably never have gotten involved with this space. I feel as though a lot of the most amazing investors, many of whom are value guys like Einhorn, would have even better records if they included supply / demand metrics like you get with TA into their buy and sell decisions.
George Soros gets it, this is why he hired famed technician John Roque very quietly last year.
Valuation is fine, but it is never a catalyst and can always turn out to be a trap. In the case of the miners, it was.
Source:
Memo to David Einhorn re: Gold Miner Suckitude (TRB)