Oh just give us the stupid washout already.
The one that everyone knows is coming.
Write a blog post or a tweet about the imminent correction and everyone retweets you, everyone agrees. The "Correction Camp" is now the world's largest circlejerk as measured by circumference, according to Guinness.
The chief strategist types are all charting the shit out of this new surge in optimism and reminding us that every time we get to this place the market gets crushed immediately afterwards.
Chris Ebert at ZenTrader pulled this LSSI metric out of his ass this weekend. It's called the Long Straddle/Strangle Index and the last two times it was in this position, the market had put in major short-term tops – April and September 2012.
I guess, fine.  We know that the Vix is certainly predictive of nothing, maybe we all need to watch the LSSI now. Sure. I'll add it to the list of 700 indicators.
Also, here's Bank of America with a chart of their Bull & Bear Index – an amalgamation of hedge fund equity exposure, fund flows etc. It is positively screaming here, off the charts bullish, higher than 99% of the time since 2002, notes the Business Insider's Joe Weisenthal: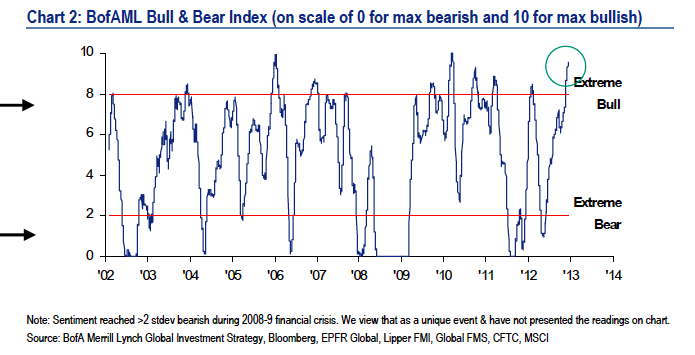 The Newsletters are all bullish too – the most bullish reading in 13 years!  This is not good, they are always wrong at extremes. JC at All Star Charts posted this last week: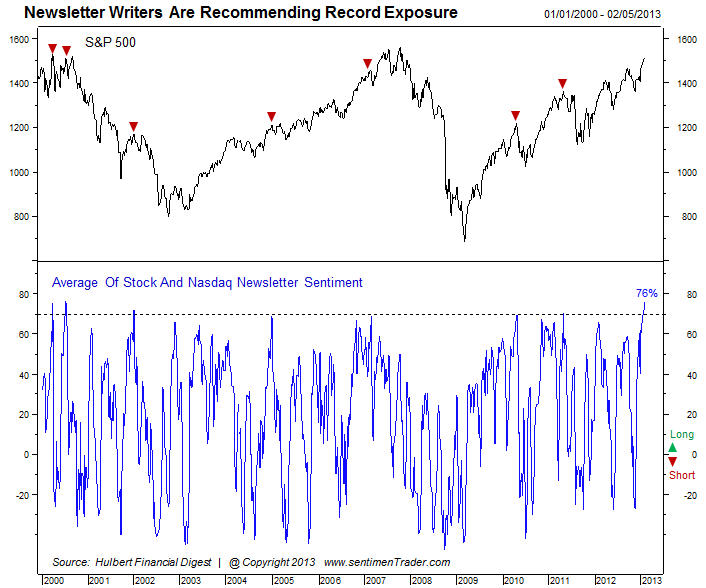 This comes at a time when we're about to get deep into this Sequestration bullshit.  The President's State of the Union address is this week.  The GOP rebuttal will be given by Marco Rubio and the Tea Party's rebuttal will be given by a guy dressed up as either Ben Franklin or Jesus Christ on YouTube.  You will hear near-zero conciliation in the remarks from either side. They want this to happen.
Now everyone's talking about this week being some kind of Moment of Truth.
Bring it.
Fuck it.
I have more buying to do anyway.
Let's correct already and be done with it.
The suspense is killing me.