This morning, my kids saw a foot of snow outside blanketing everything in sight – and promptly began shouting and celebrating like Italian soccer fans.
They've not a clue how much work will be involved for their parents…shoveling, making sure there's a path for the mail carrier without any ice, clearing the driveway so the cars can get in and out, salting, etc.
Why would we point this out to them?
The old man folded his arms across his chest, beaming with pride as he explained why his house was the best investment ever made. "Forty thousand dollars I paid for that house!"
Should I bother running the inflation-adjusted calculations which would surely reveal that his once-upon-a-time $40,000 would have been worth much more today than what his house actually is? Should I remind him about the renovations and repairs he's also spent money on over the years in addition to the original $40,000?
Why would I point this out to him? Maybe it isn't the dollar-value appreciation he's referring to, anyway. Perhaps it's that early investment he made in his home that allowed for his whole life to unfold subsequently – jobs, cars, marital give-and-take and sex, children, birthday parties, stormy nights with board games and without power, packing for camp, packing for college, retirement, grandchildren. Who am I to attach numbers to this?
"You can sell all of these funds except for this one," she said. "I mean it, Josh, no matter what. This one has to stay."
Okay, no problem, we can sidecar it into a separate account that never gets touched. But just out of curiosity, why that fund?
"It's done so well for me over the years, I've just never sold no matter what and it always come back every time the market has dropped…"
I can see that, I'm looking at the chart. Morningstar says it has a 94% correlation to the Wilshire 5000, meaning it's basically a giant index fund that owns everything and does what the market does. Sometimes it does a little better, sometimes a little worse – but the internal expenses you're paying the fund family eat away any performance edge each year, no matter what.
"I don't care – just don't ever sell it."
This is how uptrends are formed – an investment (think Apple, Gold) treats so many people so well for so long that it becomes difficult for any of us to part with it. I know both "don't ever sell my Apple" people and "don't ever sell my gold" people. We don't fight about it, I don't engage on the topic.
There's a museum in Petersburg, Kentucky with Biblical setpieces serving as "educational exhibits."  Parents and schoolteachers willingly bring their children there and allow the museum to teach them magic as though it were science, folklore as history. There's one exhibit with Adam and Eve standing in the Garden of Eden next to dinosaurs. The dinosaurs have saddles on them – and they are western saddles, like from a cowboy movie.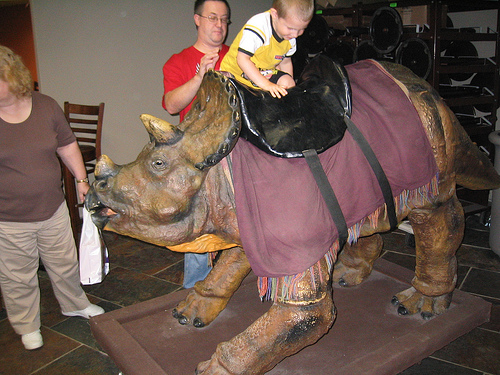 The museum's founder spent $27 million of his own fortune to build it. When visitors to the museum arrive, he will very eruditely explain how there were dinosaurs on Noah's Ark but that these particular dinosaurs were vegetarians. That's why the sheep were not devoured by a T Rex during the voyage. There is a Men In Black-style welcoming video wherein two angels – called "Men In White" – tell us that we don't have to accept what those pesky, non-believer scientists say.
If this is what the visiting parents want their children to be taught, then it is not for the rest of us to intervene. It is not our responsibility to draw the linear path from an education like this to a future in which task-accomplishing robots replace them on automobile assembly lines.
I'm not the type to walk around Disneyland pulling the heads off of Winnie and Goofy and Tigger and Buzz in front of the kids. I don't need to disrupt the spell or shatter every illusion for the sake of my own satisfaction.
Sometimes people need the magic, I am certain I myself entertain various types of magical thinking as I go about my own life. I'm certainly not aware of it, but I suppose my mind has decided I need that bit of creativity, that dollop of denial, to keep everything else held together.
It's fine, I can work around these things. For the sake of those around me, I can leave their magic intact.
Now if you'll excuse me, I'll be shoveling a foot of wondrous, enchanted snow with the kids as my special helpers, my lips are sealed.