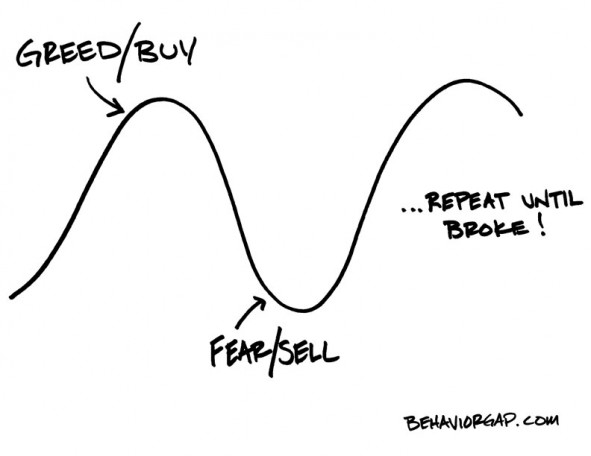 You've probably seen the above graphic, created by my friend Carl Richards of Behavior Gap and NYT Bucks Blog fame.
What you may not know is that two years ago Carl had it printed for a limited edition run and sent it out to some of the most influential and famous investors around the country, including many name-brand hedge fund managers and Wall Street heavyweights who now have it hanging in their offices.  Barry and I received numbered copies 1 and 2 respectively and if you visit us you'll see them framed above our desks. He was also generous enough to have been a contributor to my book last year, something I'll never forget.
I bring this up because I believe that Carl is one of the most important thought leaders in the entire investment industry right now and I had the pleasure of watching him do a presentation for a group of wealthy investors and advisors in Manhattan this evening.
I've seen most of the great financial industry pros speak over the last few years and Carl does something very different than they do with a room full of people. He does not walk in with the answers for what they should do with their Apple or their gold or how much small caps they should own.  Instead, he walks in with a list of the right questions we all should be asking ourselves prior to any buy and sell decisions are made.
This is not schtick, he's learned the same way I have – years spent in the brokerage firm psycho circus where motivations stem from perverse incentives and prediction is valued over process, product is valued over plan.
I know that Carl spends a lot of the year traveling around and spreading the gospel of sanity, leaving becalmed and enlightened listeners in his wake. I also know that if you have the chance to hear him speak, you ought to grab it.
My job is a complicated one – I have to process an infinite amount of information and determine that which might affect my clients' portfolios and that which I should ignore. Carl does not pretend to have the answers to all of my doubts and fears and uncertainties and foibles.  But his emphasis on focusing on that which matters and that which is under my control is the perfect message for someone like me so that I can continue with my course-corrective endeavors.
God Bless Saint Carl, an oasis of tranquility amidst a desert of scorching heat without light, noise without signal. He is changing people's perspectives and guiding the aimless with each insight he shares.
Follow @behaviorgap on Twitter