MarketWatch has assembled an infographic slideshow and the slide below ranks the top web platforms by monthly unique users.
But they missed the biggest one.
They have Google on top of the pile with 191.4 million monthly US uniques.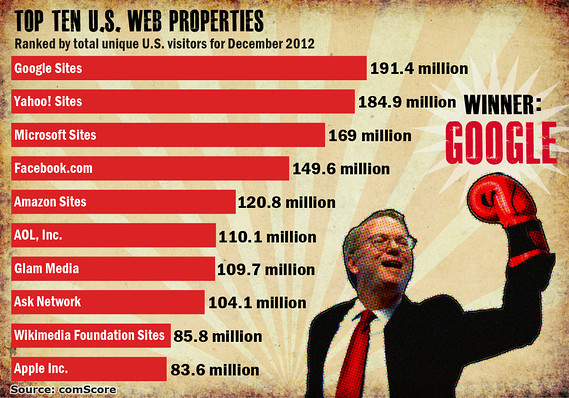 Except they left out the biggest one. The one that's bigger than all the others.
It's called Rovio and it's based in Helsinki, Finland. Rovio created Angry Birds which is one of the first apps downloaded on almost every phone and device purchased around the world. Angry Birds was downloaded over 1 billion times by last May, the total by now must be substantially higher.
Rovio has just claimed more than a quarter of a billion monthly users, more than 30 million unique users on any given day. Here is their tweet from January 11th:

Twitter is also not mentioned in the MarketWatch graphic, perhaps because it is not a site. I don't know why. Twitter has 500 million users of whom 200 million are active on a monthly basis. Rovio's 260 million monthly actives are bigger.
Again, we are talking about regular monthly users, not just registered users.
Rovio's games are offered for purchase on iOS or can be ad-supported. On the Android network they are mostly ad-supported.
With more than 260 million monthly unique users, Rovio is the largest advertising platform in the world by user base. It does not garner the same amount of hours per user that Facebook and Google claim as it is essentially a game – but it skews young and it skews mobile, the two things advertisers are chasing.
Worth thinking about.