The bull case for equities can be bullet-pointed as this:
1. Improving housing market driving wealth effect and better economy
2. Valuations reasonable (stocks trading for 13-14 times 2012 earnings estimates
3. Pervasively bearish sentiment turning positive, many still underinvested
4. European and Chinese tail risk fading
On the fourth point, many are looking at Chinese economic data and stock market performance as their tell. But because Chinese government data is so widely distrusted, it is sometimes helpful to look at other information.  One example is electricity generation, which many believe is a more accurate read on the country's economic activity.
Aliance Bernstein is out with a note today talking about how many of the downside risks have been flipped over into "upside risks". The chart below shows US home sales data juxtaposed with China's electrical usage (from AllianceBernstein):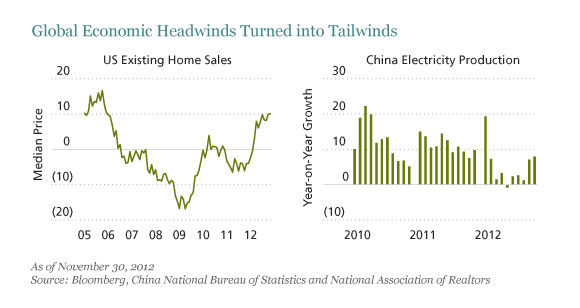 Alliance believes we're about to break out of the bear trap for stocks. Click over for more.
Source: