Here's Julie Bort at Business Insider:
After giving away $28 billion, Bill Gates is no longer the third-richest man in the world.

He's the second-richest.

You read that right. Despite his considerable, praiseworthy charity work, the Microsoft cofounder is getting wealthier.

In 2012, he wound up $7 billion ahead with a net worth of $63.4 billion, according to Bloomberg's Billionaires Index published today.
Bill Gates has been aggressively selling down his Microsoft position for over a decade. Early on, this looked like a smart idea just on the basic tenets of diversification alone. But when he didn't stop at 50% of his net worth, and went all the way down to the point where Microsoft was only a piddling 20% of his net worth, you could argue that this was more than just diversification.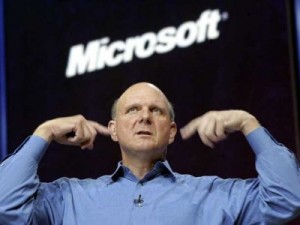 Somewhere along the line, this massive and ongoing liquidation became a short-sale of his old friend (and current Microsoft CEO) Steve Ballmer. And it looks to have been a smart "trade".
What triggered it? Was it the borderline breakeven profitability of the XBox after so many years of investment? How about the flaming wreckage of Microsoft's internet properties and search game? Maybe it was the launch of the Zune ecosystem that wasn't? Or perhaps he decided to sell more aggressively the day when Ballmer mocked the iPhone and mentioned that his kids were forbidden to own one.
Maybe it was just the cumulative effect of these embarrassments or missed opportunities – one after another. Either way, Gates's sales have gone far beyond any kind of diversification that we've seen with the Google whiz kids or Larry Ellison over at Oracle. While the billionaire has remained almost completely silent on Mircosoft's loss of luster and standing, his trading activities have spoken volumes.
Gates has relatively concentrated investments in other stocks (through Cascade, his family office/hedge fund thingie) and many of them he's added to over the years, like John Deere and the waste hauler Republic Services Group. But the most consistent investment posture he's maintained since absconding from day-to-day activities at MSFT has been the selling of its stock.
The moral of the story here is that the second richest man in the world shows us the value of knowing when to walk away, no matter how sentimental or close to you an investment once was. To say nothing of the value of spreading out the chips just in case a once-great investment turns into a mess on someone else's watch.
Source:
Bill Gates Is $7 Billion Richer Than He Was A Year Ago