It is very rare that any top-performing sector in a given year can repeat that market-leading performance in the year that follows. Unfortunately, a majority of investors don't seem to understand this – obsessed with past performance, they tend to plow into whatever's worked best in the recent past. The pros do this as well, extrapolating today's activity into a forecast for tomorrow in a never-ending cycle of chase-and-replace.
This is important to keep in mind at this time of year, as you plan your exposures going forward.
A glance at the annual returns by S&P sector for the last decade through year-end 2011 should hammer this point home to you. Only energy has been able to repeat, and remain near the top for a large part of the decade.
(Click to Embiggen!)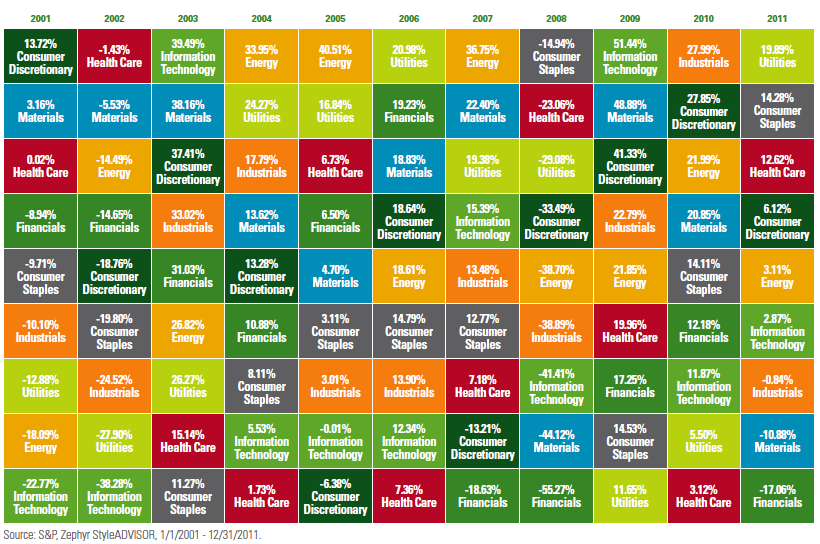 The data and chart above comes courtesy of SPDR.
In 2012, the best performing sector (by far) was the Financials, with a runaway gain of almost 27%. Then came Consumer Discretionary (+21%) followed by Healthcare (+16%).
But the most important datapoint here is that the S&P Utilities sector, which led the flat-overall market in 2011 with an absurd, yield-desperate 19% return, finished last this year. Of the ten S&P sectors, only the Utes lost you money in 2012 (-1.8%).
Please internalize this lesson as you plan your over- and under-weights for 2013.  I hear lots of enthusiasm for the financials and banks next year but I think a lot of that is just based on how well people were treated by them this year.  It is not a guarantee that the First shall be Worst in the new year, but the continuation of leadership is very rare.