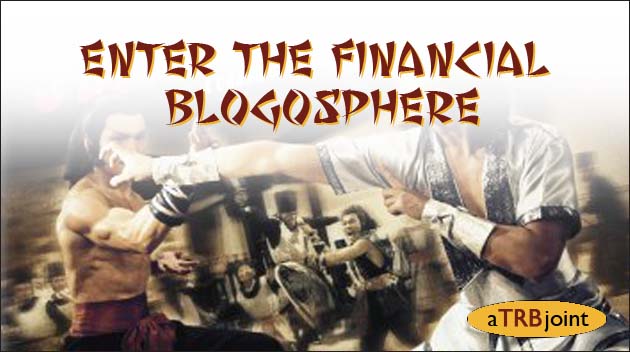 "Shaolin shadowboxing and the Wu-Tang sword style. If what you say is true, the Shaolin and the Wu-Tang could be dangerous. Do you think your Wu-Tang sword can defeat me?"
And now, my Christmas present to all of you – your guide to the entire financial web!
I took 2011 off because I was consumed with writing the book, but there have been so many changes in the financial web since 2010 (see Financial Blog Wars) that I just had to get this annual update done for 2012.
As always, I did my best to make this as inclusive as possible, these are the blogs that I read (or wish I had time to read) somewhat regularly.  While navigating these chambers, please keep in mind that the blogs and sites listed were not listed in any particular order. Some of the blogs could have been placed in more than one category so I did my best to prioritize and organize intuitively. If I've missed your blog it's because I'm only human, feel free to drop a link in the comments section below and we'll have you in consideration for next year.
What are you waiting for?
ENTER THE FINANCIAL BLOGOSPHERE!

The Deadly Venoms: Traders, Technicians and Disciples of the Guild of Charts
"Choose the sword, and you will join me. Choose the ball, and you join your mother…in death. You don't understand my words, but you must choose. So… come boy, choose life or death."
Market Montage
All Star Charts
The Armo Trader
Dynamic Hedge
Downtown Trader
Kimble Charting Solutions
ZorTrades
Zikomo Letter
Price Action Lab
Dr. J Blog (OptionMonster)
Peter Brandt
High Chart Patterns
Derek Hernquist
Upside Trader
The Kirk Report
Slope of Hope
Dragonfly Capital
Joe Fahmy
Risk Reversal
Vix and More
Bill Cara
Maoxian
Quantifiable Edges
Afraid To Trade
AlphaTrends
Condor Options
Surfview Capital
SMB Capital
Dynamic Hedge
Andrew Thrasher
Dragonfly Capital
ChessNWine
Mercenary Trader
Investing With Options
The Trend Rida
Crosshairs Trader
Ivanhoff Capital
Chicago Sean
Bigger Capital

Warrior Monks: Stockpickers, Fundamentals, Analysts, Research, Investing
"Toad style is immensely strong and immune to nearly any weapon. When it's properly used it's almost invincible…"

Greenbackd
Investing Caffeine
Dividend Growth Investor
Notable Calls
Talented Blonde
AlphaVN
Learn Bonds
Random Roger
Also Sprach Analyst
MicroFundy
Above the Market
Joe Terranova
Gannon On investing
Cale in the Keys
Invest With an Edge
Market Folly
Chicago Financial Planner
Value Plays
ContrarianEdge
New Rules of Investing
EconomPic Data
Stephen Weiss
Climateer Investing
Humble Student of the Markets
CXO Advisory
World Beta
Research Puzzle
Insider Monkey
Legendary Weapons: Tools of the Trade, Charting, Data, Analytics, Aggregation, Research Providers
"The sword it's the best weapon of all. Two sharp edges and a long spine. The blade is very thin. And it's easily damaged, you remember that. The vital thing is the point. Pay special attention to it. Your life can depend on it."  
Finviz
YCharts
Stockcharts.com
Morningstar
Free Stock Charts
Chart.ly
Schaeffer's Investment Research
Wall Street Sheet
Stock Trader's Almanac
Wealthfront Blog
Bespoke Investment Group
Research Recap
XTF
ETFdb
StockTwits
Linkfest.com
PunditTracker

Master Killers: Elder Statesmen, Investment Companies, Macroeconomics, Professors, Abbots of the Monastery
"At the height of their fame and glory, they turned on one another, each struggling in vain for ultimate supremacy. In the passion and depth of their struggle the very art that had raised them to such Olympian heights was lost. Their techniques, vanished."
Aleph Blog
Crossing Wall Street
A Dash of Insight
The Pragmatic Capitalist
Behavioral Macro
Jeff Matthews is Not Making This Up
Paul Kedrosky's Infectious Greed
Credit Writedowns
The Big Picture
Economists View
Investment Postcards
Calculated Risk
Naked Capitalism
Global Macro Monitor
Baseline Scenario
Jesse's Café Américain
Bronte Capital
Abnormal Returns
iShares Blog
Global Econ Trend Analysis
Psy-Fi Blog
Econlog
Jared Bernstein
Sober Look
Blog Maverick
Dr. Ed's Blog
Noahpinion
Themis Trading
EconoSpeak
Howard Lindzon
Andrew Hallam
Market-Ticker
Naked Capitalism
Guilfoyle's Market Recon
Bondsquawk
Alhambra Investment Partners
Also Sprach Analyst
Econbrowser
Schaeffer's Commentary
Greg Mankiw's Blog
Interfluidity
Phil Pearlman
Marginal Revolution
Carpe Diem
The Capital Spectator
dshort.com
Credit Writedowns
The Basis Point
Grasping Reality
Bearish News
Falkenblog
Rortybomb
Context (AllianceBernstein)
Bonddad
Rick Bookstaber
Streetwise Professor
Calafia Beach Pundit

Blog Networks: Clan of the White Lotus
"He looks determined without being ruthless. He has something heroic in his manner. There's a courage about him. He doesn't look like a killer. He comes across so calm. Acts like he has a dream. Full of passion…"
The Business Insider
Advisor Perspectives
Angry Bear
Daily Crux
The Money Blogs
Money Science
Motley Fool
Wall St Cheat Sheet
Covestor Smarter Investing
Money Morning
Greenfaucet
See It Market
Wall Street Oasis
Phil's Stock World
Seeking Alpha
24/7 Wall Street
Daily Reckoning
iBankCoin
Real Clear Markets
Benzinga
StockTwits
Credit Slips
Minyanville
TheStreet.com
Investor Place
The Guru Investor

Shaolin Rebel Intruders: Anonymous Assassins, Outliers & Wild Cards, Jokers, Upsetters of the Status Quo
"Golden Arm never uses weapons. Says he doesn't need 'em. He says using his bare arms is the best. And he's probably right. Nobody's beaten him yet! Just using his arms, he beat us all then. We had no chance. He had us cold."
Dealbreaker
LOLFed
Jr Deputy Accountant
Long or Short Capital
Money Is The Way
The Epicurean Dealmaker
Ultimi Barbarorum
Zero Hedge
Limericks Économiques
footnoted
re: The Auditors
Interloper
The Reformed Broker
The Fly
bclund
The Altucher Confidential
Nerd's Eye View
Capitalism Without Failure
Freakonomics
Kid Dynamite
Weakonomics
Floating Path
Broke and Broker
William Banzai7
Keiser Report
The Felder Report
Good Financial Cents
Financial Armageddon
Market Squeeze
Economists Do It With Models
Stone Street Advisors
Cassandra Does Tokyo
Points and Figures
The Green Skeptic

The Dynasty: Bloggers for Mainstream Media and the Government
"One is invulnerable. In fact it involves strenuous breath control and of all techniques it's the most difficult. The human body has a 108 pressure points. 36 of these can be fatal, the remainder paralyzing."

Derek Thomas (The Atlantic)
FRED Blog
Morning Money (Politico)
Liberty Street Economics (Federal Reserve)
Counterparties (Reuters)
Joe Weisenthal (Business Insider)
Taibblog (Rolling Stone)
Michael Santoli (Yahoo Finance)
Focus On Funds (Barron's)
Daily Ticker (Yahoo Finance)
Felix Salmon (Reuters)
Dan Gross (Daily Beast)
MarketBeat (WSJ)
Forbes Blogs
Heidi Moore (The Guardian)
The Deal Professor (NYT)
Tech Trader Daily (Barron's)
FT Alphaville
Quartz
Exile On Wall Street (Forbes)
Financial Muse (eFinancial News)
WSJ MarketBeat
Investment News Blogs
Behind the Money (CNBC)
Huffington Post Business
Heard on the Street (WSJ)
Breakout (Yahoo Finance)
Doug Kass (TheStreet)
WealthManagement.com Blogs
The Tell (MarketWatch)
DealBook (NYT)
TIME Business
Economix (NYT)
Working Capital (Forbes)
AdvisorOne Blogs
Total Return (WSJ)
Deal Journal
Guardian Business
Bloomberg View
Planet Money
The Deal
Paul Krugman (NYT)
Financial Adviser
CNBC NetNet
Beyond BRICs (FT)
EconoChat (BusinessWeek)
Term Sheet (Fortune)
PE Hub
Slate Business
WSJ Real Time Economics
 ***
Hope this guide has been helpful, grasshopper. If I've missed any please tell me below!
Read My Book