Matt O' Brien at The Atlantic and Matt Boelser at the Business Insider each did a Top Charts of 2012 crowdsourcer and both are great. Boesler's is slightly better because I'm in it, my entry below along with the explainer:
"The biggest mistake an economist can make is betting against the resilience of the US consumer. And never was this more true than during this so-called New Normal, retrenching, deleveraging, jobless recovery.  In the chart here, I submit to you the consumer discretionary sector priced in the total market (XLY in SPY ratio chart).  In 2012, the best performing stocks were homebuilders (Pulte Homes, Home Depot), media companies (Comcast and Disney) and retailers (Amazon, Starbucks).  In retrospect, of course they were."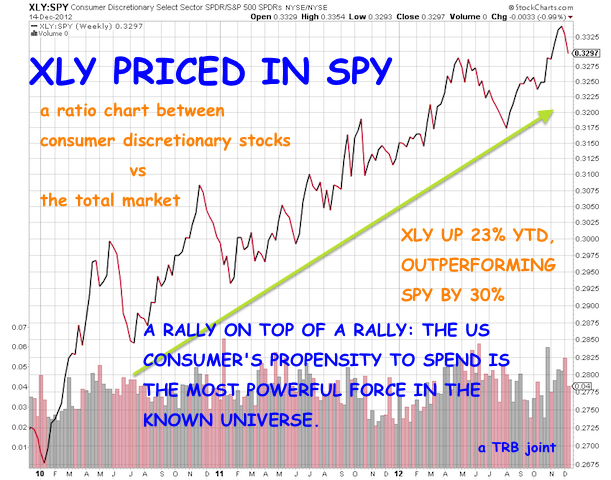 You should check out both of these chartfests, there is almost no overlap and some your favorite bloggers, journos, traders and strategists are in the mix.
See 'em here:
Wall Street's Biggest Geniuses Reveal Their Favorite Charts Of 2012 (Business Insider)
Everything You Need To Know About the Economy in 2012, in 34 Charts (The Atlantic)