State Street Global Advisors is out with a wide-ranging year-end research piece which begins with a look at the state of the exchange traded product universe.  2012 was another great year for the space even while equity mutual funds lost assets every second of every day.  In all, exchange traded funds and notes (ETNs) saw a net $200 billion in inflows through the end of November.
But there were some ETFs and ETNs that weren't so fortunate. Here's SSgA:
Conversely, ETP investors moved away from select equity
categories, such as parts of Europe, the utilities sector, Asia ex-
Japan, Mexico, Taiwan and UK large caps. They also sold out of
currency ETPs to the tune of $2.5 billion. Within other European
asset classes, money markets lost $1.9 billion. To put this into
perspective, only 24 categories experienced net outflows,
while 68 experienced inflows, which makes direct comparisons
somewhat challenging.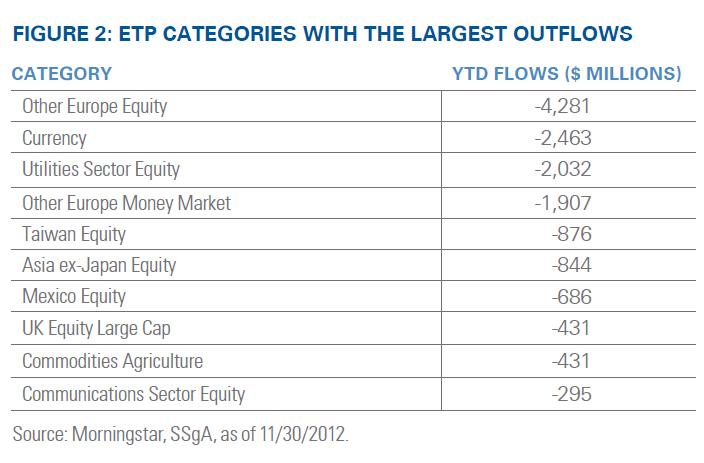 Interesting that the Mexican ETFs lost assets this year, as the Mexican stock market (EWW) was one of the best performing markets in the world, up 26% YTD.