Research In Motion ($RIMM) has been the talk of the town this winter – not the company so much as the stock, which is up some 70-odd percent in the last few months.
The company reports on Thursday night and every hot-money trader will be paying attention, along with some value guys who are just waiting for a turn in fundamentals to confirm the "cheapness" of the franchise.
I have no position and will not be trading it into or out of the numbers, but I thought you should check out Leigh Drogen's site Estimize – it's contributors' submitted earnings estimates have been more accurate than The Street over the past few quarters (although on bottom-line EPS they are matched for this Q at negative .35 cents per share)…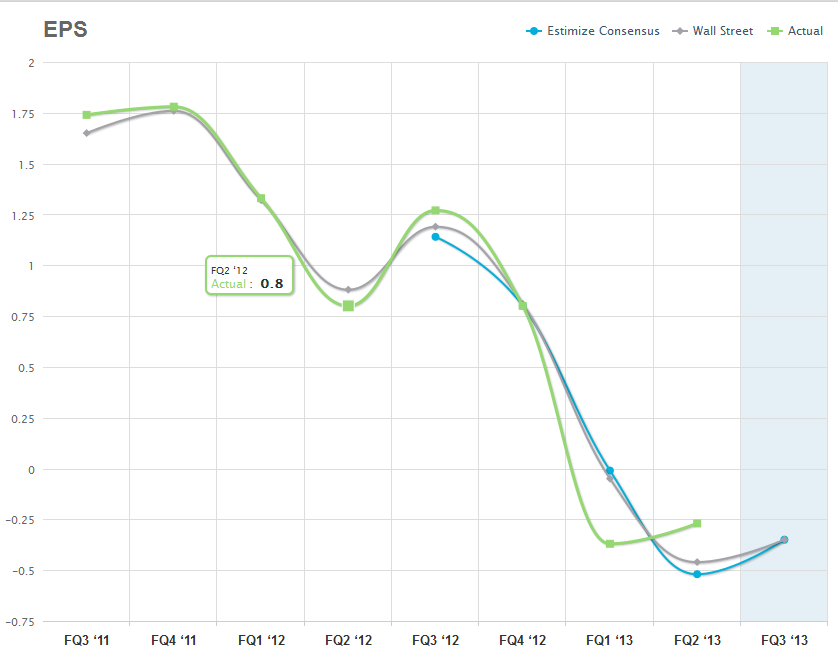 A lot of attention has been focused on Research In Motion this quarter as the stock has more than doubled off the January lows. Was this just a dead cat bounce for a stock that had run out of sellers, or has RIMM been able to stop the bleeding from the past year and a half?

The FQ2 earnings report was a significant event as RIMM surprised everyone by coming in well above both Wall Street and Estimize consensus expectations, notably on the revenue side where many assumed they were getting taken to the woodshed. On a year over year basis the numbers were still awful, but quarter over quarter at least the bleeding had stopped.

But as RIMM prepares to report FQ3 numbers this week, expectations are again for another quarter over quarter drop in both EPS and revenue. The charts below show the Estimize and Wall Street expectations for this and previous quarters, as well as the distribution of estimates for FQ3.
Keep Reading:
Expectations For RIMM Are Getting Better, But Still Below Wall Street (Estimize)