How would you like to make 2013 your most productive year ever?
Seven ideas below!
1. Stay Away from "the News"
The news is mostly not news. Believe me, I traffic in this stuff online and on-air every day.
But let's say it was all "real news"…then what? It isn't as though you're able to react to it, at least not all of it. In fact, the less of it you react to, the better off you probably are. My friend David Merkel talks about making as few decisions as possible, thus limiting the amount of bad or forced ones. This is the kind of advice that sounds so simple and obvious that it can't possibly be true – but it actually is true.
So paying attention to a running stream of headlines all day long only ups the odds that you'll be tempted to react or make decisions. So you should not do that.
In fact, as I demonstrate here, the vast majority of what we call news does not have any bearing on the future performance of your investments over any relevant stretch of time. Vanguard's economists have found that among the most frequently cited or widely-followed economic indicators and valuation metrics, not a single one of them has greater than 50% predictive power. In other words, flip a coin.
It's not helping you to be up to the moment on any of this stuff – there's no value in reacting to it and there is a lot of detrimental second-guessing that can accompany your prolonged exposure to it. As soon as you realize this, your life and your work will improve.
Alain de Botton, author of Religion for Atheists, tweeted something last week that I believe makes this point perfectly: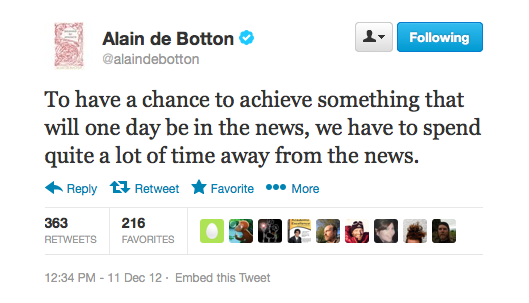 So go meet someone or write something or see someplace, anything but mindlessly watching or clicking on "the news".
Use and enjoy the news on your terms and try not to check in more than a few times a day, it will all be there waiting for you when you have time for it.
2. Turn Off Push Notifications
Do you know why all of these social media sites want you to accept "push notifications" on your phones and tablets? Because when they report to their investors, "engagement" is the most crucial metric of all. It's very good for them for you to have a buzz or a beep every few minutes to draw you into their service. But is that good for you? is it helping your cause in any way? No it isn't.
Turn every one of these R2D2 blurps off and don't look back.
Swimming in a sea of news and chatter, like Twitter for example, is cheap and easy. Anyone can do it, hence there is zero barrier of entry. But writing an article or a research report or an internal note for your clients takes work. It takes thought and editing and legwork and skills. So the barriers are higher and the end result is accomplishing something more valuable than just a spray of bullshit tweets that are lost in the ether seconds later (the average lifespan of a tweet is under and hour and less than a third of them produce any reaction at all).
You do not need an instant summons every time you are mentioned in a tweet or each time someone DMs you for a favor. The phone is your tool, you are not a tool for Mark Zuckerberg to be able to report an uptick in time-on-site stats.  Let Twitter and Facebook exist without you for large swathes of the day. Like the news, they are always going to be there when you are ready to deal with them. Go into settings and block the sirens and bells and whistles and vibrations now – you'll thank me.
3. Change Your Listening Habits
When do you listen to music? I'm guessing on the way to and from work. Me too.
Here's something I've already begun to do – I've stopped listening to plaintive, delicate Dad Rock on the way to work, it's going to be rap only from here on in. On the way to work, it's going to be all aspirational, no reflection. Don't get me wrong, I respect accordion skills and lyrical romanticism as much as the next guy – but whom do I want to emulate more in my business dealings each day – the Decemberists or Dr Dre? One of them is worth $260 million and just built and sold the Beats Audio headphone company as a side project.
The other one is really great at tying scarves.
On the way home, feel free to wallow in the fiddle & banjo Americana ambiance of the Lumineers and the Avett Brothers and the Wilcos and the Bands of Horses as well as Mumford and his sons. That stuff is great for decompression and chilling out. But you musn't subject yourself to this Sad Bastard Music en route to the battlefield. Primarily because you'll be playing against people like me, who've been main-lining an overdose of corner-holding bravado while you've been listening to an art major lick his own violin. Switch it up – aggressive and inspirational in the AM, plaintive and beautiful in the PM when the fightin's done. Try this for a week, watch what happens.
The new playlist headed into year-end includes Wu Block, Kendrick Lamar, Joey Bada$$ and more.  I'll be adding the new Big Boi album, the new Masta Killer album etc. Here's a list of upcoming releases:
December 18
T.I. – Trouble Man
Chief Keef – Finally Rich

January 15, 2013
A$AP Rocky – LongLiveA$AP

January 22, 2013
Joe Budden – No Love Lost

January 28, 2013
J. Cole – Born Sinner

January 29, 2013
Ill Bill – The Grimy Awards
Oh No – Disrupted Ads

February 12, 2013
LL Cool J – Authentic Hip-Hop

March 2013
Tyga – Hotel California
Oh, and mixtapes, too. The best way to discover new hip hop and to load your iTunes up with the newest and most crucial tracks is to hit up the Tape Deck page at Ivan Rott's site, Hip Hop is Read.  Every few weeks Ivan painstakingly creates a new mixtape from the best new tracks, it includes both up-and-coming emcees as well as the Jay's and the 50's and the Wayne's.  It is fantastic and free, go here.
4. Stop Chasing Performance
Ray Dalio, the world's most successful hedge fund manager of all time, has dozens of pairs trades on right now. Sometimes he has up to 50 of them on the books at once, all designed to work together in the context of expressing his firm's global macro views. The pairs can be anything – this priced in that, the other thing offsetting that first thing, etc. He's using fundamental information from a database comprised of a thousand booms and busts dating back hundreds of years and occurring all over the world. Everything the principals of the firm think is up for challenge or discussion at any time and their various theses are constantly being tested, backtested and subjected to a multitude of variance optimizers around the clock to determine their veracity, purity and proof-of-concept. An investable idea is constructed into a trade or series of trades only after it holds up to the scrutiny of all relevant historically comparative periods and geographically compatible occurrences. And even then, it is up for debate at any time.
Are you doing that with your investment process? No? Good, then shut the fuck up.
But don't feel bad…because for all of Dalio's wizardry and undeniable brilliance and resources and research capabilities and surrounding brain power, he is up only 2% on the year in his flagship fund. I know a prop trader living in his mother's basement who's demolished Ray Dalio performance-wise. Do you think Dalio would care? Is the prop trader's process repeatable? I don't know, but Dalio's is. I am certain he is unfazed.
I'm also certain his clients are unfazed, he's only earned them a record-shattering $35 billion since the fund's inception in 1975.
The lesson is to chill out, ignore the benchmarks, stop focusing on how others are performing and focus on earning the investment returns that coincide with your goals.
Everything else is just a cup of coffee.
5. Hire Someone Already!
Whatever projects you're putting off and whatever concerns you have about unknown health care costs, it is time to lay these things aside and focus on growth as opposed to savings.
The corporate culture of this country has shifted dramatically in the last 15 years.  When I began working and investing, optimism was paramount and growth was the only thing anyone wanted to talk about. What people forget about the tech bubble of the late 1990's is that it was accompanied by a massive sell-off in value stocks, not only were dotcoms flying, but boring, so-called bricks and mortar companies were witnessing a mass exodus from their stocks.  The pendulum had obviously swung too far toward growth when "exciting" AOL was able to buy fusty old Time Warner for a combination of stock, enthusiasm and hugs.  Well, I think at this point it would be fair to say that the pendulum has swung way too far in the other direction. We in the business community have become a clinically depressed and perpetually fearful firmament, obsessed with cost-savings and productivity, risk-averse and only secondarily interested in the prospects of growing our companies and practices and revenues and sales. We wear this world-weariness on our sleeves, for many of us the malaise is now built into expectations on a permanent basis.
This fall, we hired two new employees at the firm, both of them completely untrained and more or less new to the industry. This January we've got a third new employee starting, someone with the kind of deep experience in certain key areas we've been lacking. The intention behind these hirings is not some altruistic the buck stops with us-type of fantasy that we're going to be "part of the solution."  No, we simply want to improve our service to clients, scale our business appropriately given the opportunities and ensure that we've got the manpower and expertise to be the best we can be in 2013 and beyond.
It would be nice to see more people take a little risk and hire someone. If you want the new business badly enough to justify it, it'll come. There are 100,000 veterans on the way or already newly returned home. Don't be shy about starting there.
Hire people, train them, give them tasks and never mind the productivity savings of nickels and dimes, focus on the dollars you're not even reaching for.
6. Stop Answering Every Email
Email is totally out of control and needs to be made illegal effective immediately. It is the worst thing that's ever happened to humanity. Unless you consider the alternative – phone calls – which I view as an act of violence. "Why is he calling me? What emergency necessitated his dialing my number and waiting for it to ring, what utter atrocity required the disruptively instantaneous back-and-forth of a voice conversation?" But I digress…
Here's the thing you have to know about emails in 2012: It's okay to ignore them. Even the ones from people you know. I started doing that this fall and you know what's gone wrong? Nothing. No lost friendships, no hard feelings, no missed business opportunities, no miscommunications. It's all good. So which emails do you respond to and which do you ignore? Simple! When you see an email, ask yourself "is ignoring this going to keep me up at night and make me feel as though I've been careless or sloppy or cruel?"  If the answer is yes, then deal with the email! If not, ignore it. It's okay, if the person sending it knows you, then they'll accept that you're busy or think maybe you never got it (the spam folder ate my homework). This frees you up to respond to clients, vendors, business partners and close friends and acquaintances with whom you're actively dialoging or making plans.
So don't make all these dumbass folders and files you're never going to use, just start blowing emails off as they come in. A wise man once said that your inbox is like a To Do list that someone else makes for you. Top which I say, no thanks. I make my own To Do list, the needs and wants and tasks of others come after the tasks that are important to my clients and my practice.
As for what should replace the email, I vote for the Twitter direct message. No one will DM you annoying or wasteful communiques if you're following each other on Twitter. PR people can be blocked, never mind any "safe unsubscribe" email spam ritual – you can get rid of a PR sea-creature whom you've accidentally followed forever with a Twitter unfollow.  As soon as they start allowing attachments on Twitter and slightly longer messaging, I'm going to start replacing as many email convo's as possible with it.
7. Read More Books
What do you want? What do you need? Make a list. In the process of making these twin lists, take note of the items that defy categorization between the two. Is there something that fits on both the want and the need list?
That's the thing that is your new priority.
In the course of making my list, I realized that "Read More Books" would be equally at home on both lists.  I barely did any book-reading this year. I have an excuse, I wrote one and promoted it
instead.
But reading books will make me a better financial advisor and a better investor and, depending how I select material, perhaps even a better person. Well, I'd like to be a better advisor, investor and person but I also need to – why do anything if continual improvement is not the driving force?  So reading more books is both a need and a want.
I haven't formulated a plan as to how I'll do this just yet. There are no shortage of books on my list and more keep getting added, so that's the easy part.  It's making the time and forcing myself to take it that will be the hard part.  But I'm doing it, I've committed. And I believe that this book-reading time carved out of each business day will make me more productive, not less. Reading centers you; the forced tuning-out of excess stimuli and superfluous distraction offers a benevolent side-effect – in addition to the knowledge you're gleaning from what you're reading, you're also getting an oasis of peace and quiet during that time, a safe harbor in the midst of the iStorm.
***
These seven suggestions should help you have a much more productive year than ever before and should also provide you with many salutary benefits I haven't even mentioned here. Try them out and please pass this on to any friends and family members who could use a boost.  Let's kick some ass together this year!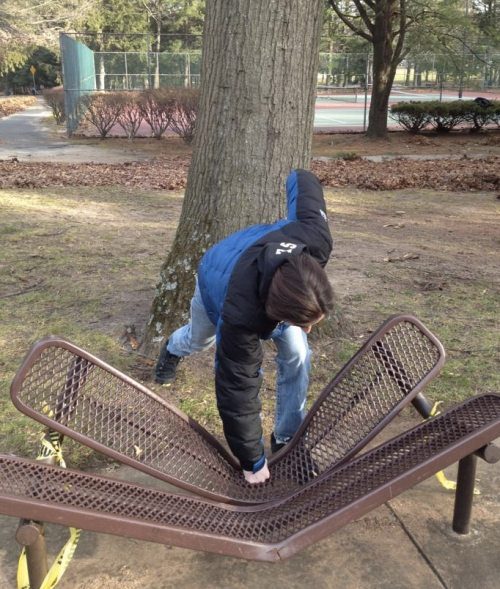 Feel free to drop any productivity tips of your own in the comments section below! And yes, I'm fully aware of the irony inherent in a 2500 word post about being more productive 🙂