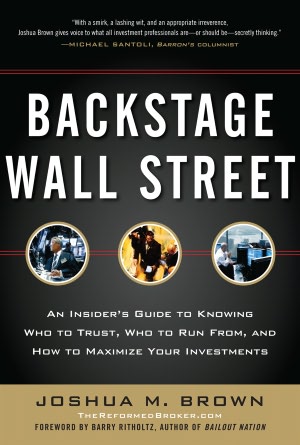 Earlier this year I released my debut book, Backstage Wall Street, from publishers McGraw-Hill.
I've read almost every investing book written, both the classics as well as the dozens that have come out over the past few years that I've been blogging.  And I gotta tell you, none of these other books – great as some of them are – offer anything even remotely similar to what Backstage does.
You can break up most finance books into these categories:
How to Get Rich
Technical Trading Texbooks
Technical Value Investing Textbooks
Lessons from Great Investors
The History of a Certain Era on Wall Street
The True Story Behind a Certain Event on Wall Street
Biography or Autobiography of a Famous Investor
An investing Philosophy or Strategy Explained
I find a great deal of enjoyment and value reading all of these types of books, always have. But as far as I know, my book is the only one that encompasses the best elements of all of these.
Backstage Wall Street contains timeless market insights, my own true-life backstory, teachings from great investors, a history of The Street, a rundown of investing trends and fads, revelatory investigations into product scams and faulty methodologies, threesome sex scenes, a who's who of important investing figures – alive and dead, a timeline of the Jamba Juice reverse merger IPO, the straight-line cold call pitch and more. Much more.
I recommend other books here on the site all the time, we interview the authors too. I try to read as many books as possible in my spare time (LOL, what's that?). But today, and in this moment, I am recommending my own book to you. If you haven't read it yet, this is the time. No one takes less prisoners and delivers the ugly truth and the triumphant redemption of the investing biz with as much verve and vitriol as I sought out to do with my first book.
Who should read Backstage Wall Street?
College students who are thinking of getting involved with finance.
Investment industry professionals.
Individual investors.
Financial advisors.
Hot girls.
Financial media people and journalists.
Traders and analysts.
Politicians and regulators.
Anyone who wants to be smarter about whom they trust with their money.
If you have any of these types of people on your list, you'll want to make sure to grab them a copy. It makes a great stocking stuffer too.
So this Christmas / Chanukah / Mithras Day, give the gift of snark. Give them Josh Brown's Backstage Wall Street and you are guaranteed to make them think, learn and laugh out loud.
At Amazon:
Backstage Wall Street (Hardcover)
Backstage Wall Street (Kindle)
At Apple iTunes Bookstore:
See Also:
The Backstage Wall Street Book Party (Business Insider)
Backstage Wall Street: Here's What's Really Happening Behind The Scenes (Forbes)
Breaking Ranks: Former Broker Turns Bomb Thrower (Advisor One)