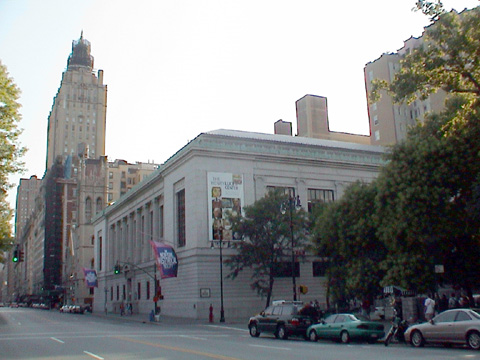 Bloomberg held its annual hedge fund event at the New York Historical Society, a stately manse on Central Park West and 77th Street, quite a locale for a conference.
Upon walking in at 8am, guests were thrilled to have Bloombirds with digital cameras snapping close-up photos of them for their "networking board" project.  So weird but NBD.
After some milling about and coffee and stuff in the museum-like front hall, we hit the auditorium and got underway.  I'm doing my notes here in an "overheard" format, the link to agenda is here if you'd like to know more about the speakers and topics.
*  Abby Joseph Cohen is on the panel with Dierdre Bolton and two emerging markets hedgies. AJC lays out Goldman's customary "stocks will be ten to fifteen percent higher in the coming year" forecast, same one she does each year.  But it was cool to hear it delivered in person! Like seeing Streisand live and that goosebumpy moment when she sings the opening lines of People…people who need people…
* Pimm Fox is manning the on-air pulpit to stage right, he keeps the program moving along with historical trivia in between sessions. Pimm's great.
* The consensus of the "Strategies" panel seems to be that equities will far outpace bonds this new year. "Credit bubble" term is used a lot.
* There's a fiscal cliff panel but I used that time to return emails. Nothing we haven't all heard before a million times.  Morgan Stanley's head of Wealth Management says a deal is likely, so that's good.
* Investing in Europe panel – "Lot's of hedge funds missed this trade this year, lots of macro funds especially. There are a lot of people who think it makes them sound smart when they're negative."
The rest will be from the Marc Lasry discussion, the main draw of the event I think:
* Here's Marc Lasry of Avenue Capital, specializes in distressed investing.  Rocking a zippered sweater, no tie. "The problem in DC is nobody wants to appear weak…you know that a deal's going to get done, but later as opposed to earlier….for our portfolio, we're 20 to 25% cash instead of typical 15%."  He explains that the extra cash is for "big nervousness moments" as investors worry there is no deal.
*  Lasry on the US economy: "If there's a surprise this year, it will be on the upside not the downside."  2 to 3% GDP is his expectation, which is "really positive" because he's a debt guy, not an equity guy.
* Lasry: $1.2 trillion in distressed debt, defaults running about 1%.  Lots of investable possibilities for him across all sectors.
*  Lasry: "Everybody wants to be liquid, but if you want to make money right now you need to move into illiquid names.  That's where there is a need for capital and that's where there is still opportunity."
* Lasry on Europe: "You're going to be in this environment for at least five years….banks are forced to sell loans every time there is a restructuring.  Funds like mine are buying this senior secured debt at big discounts. We are getting overpaid for risk."  "Most of the money raised to invest in Europe right now is going into equities and real estate, not into corporate debt yet." "Southern Europe is a beautiful place to visit, but hard to invest because the laws change and the legal system is weak.  In Northern Europe and the Nordic countries, it's a great place to invest because the legal system is stronger than in the United States."
That's all from the morning session. Hoping to get back for the afternoon, will update.