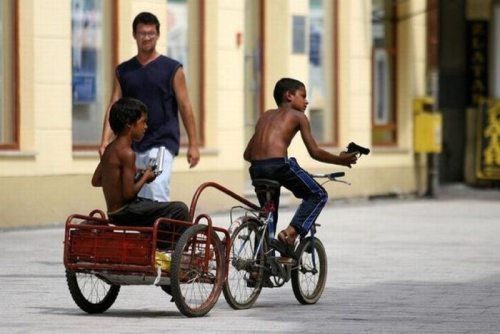 Yesterday we put on a decent-sized emerging markets bet for two of our model client portfolios. We're playing the asset class in a low-volatility, high dividend way – taking advantage of one of the biggest fallacies in finance, that higher risk means higher reward. It doesn't actually work that way in US stocks nor does it in EM.
The most important considerations for us when entering into this investment was that we keep ourselves from being all BRIC and that the exposure we put on would be toward the growing middle classes of emerging markets, not just to the highest cap-weighted banks and oil companies that tend to dominate those country indexes. This required a mid-to-large cap bent rather than megacaps, easier said than done.
But I think we've done it.
I mention this because I think many other managers are beginning to get excited about emerging markets again, after three years of underperformance.  The technicians have been emailing me their EEM-priced-in-SPY charts for the last two weeks, a ratio chart that appears to have bottomed. The fundamentals guys are looking at growth rates, central bank policies and valuations that are tough to ignore.
Chinese PMI data has been steadily improving, hitting a 13-month high the other day. But the Chinese haven't begun to believe it themselves yet.
That may be changing.
Overnight there was a massive rally in China, taking the Shanghai Composite up 3%.  Joe Weisenthal has an explanation courtesy of Morgan Stanley:
It had to happen sooner or later and today's bark from the market which has been the globe's dog caught plenty by surprise. There had been a slow move higher helped initially by the HSBC services PMIfor the mainland shows another expansionary number but it was the 1% gap in 10 minutes that took the index back through 2000 that got the street fired up as everyone looked for a catalyst for the move. A multitude of reasons cited with CIRC giving the insurers permission to invest in the banks the most discussed, the politburo making further noises on the plans for urbanization which should see up to 300m people move to to cities over the course of the next decade giving hope that the infrastructure investment will get a further shot in the arm. The overall sentiment post the NPC has been that the new government will be more conservative and not as reformist as their predecessors so this discussion hopefully putting reform and development back onto the agenda.
Fired up indeed. And the thing to keep in mind is that a resurgent Chinese market has big implications for many other EM markets.
Source:
Here's What People Are Saying Was Behind Last Night's Huge Rally In China (Business Insider)