Friday's close was the most obviously, nakedly manipulated bullshit close I've ever seen. I have no idea who is behind it but this is not what healthy, well-participated-in markets do. There are too many real players to allow for this kind of thing to be able to happen in a real market. This market we have is shady as hell. I wouldn't even comment on something like the below chart if it were a one-off, but honestly, this feels like it's all the time.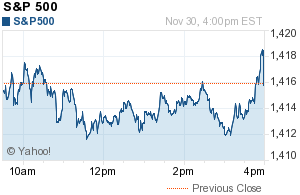 The market is devoid of width and depth, you can jerk it around pretty easily – especially if backed by an institution that borrows free money.  And in the meantime, the powers that be need it to close higher every week to prevent outflows and redemptions. Tyler's take on the close is here, btw:  (Zero Hedge)
That's the way they want it. They get it.
I feel bad for investors and traders who haven't been in this game prior to 2008, when it was real and the mid-day action mattered. Now the whole trading day is irrelevant because the 19 people still left get to close this motherfucker at whatever price they want. On top of which, almost all of the gains this year have come courtesy of gaps in the morning. The whole trading day has just been invalidated at this point.
I don't know…whatever.
Read today's Takeaway at Investment News and have a great weekend!