Research in Motion ($RIMM) is up – stand back – 65% in the last 90 days while it's chief nemesis Apple ($AAPL) is down – DOWN – 13.5% during the same stretch. If someone had told you to short Apple and go long RIMM back in August, you would have cackled like a crackhound. Oh well.
Here's a quarter-to-date chart comparing the two from my pal Brian Shannon (@alphatrends):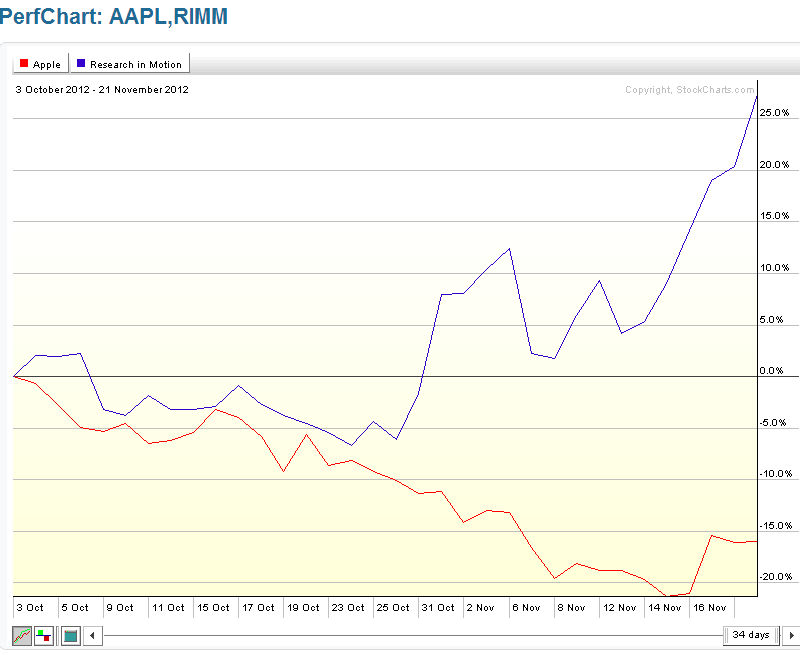 Anyway, the stock's latest leg up comes courtesy of some positive analyst chatter, including a note from Jefferies who thinks January's release of the new touch interface OS, called BlackBerry 10, has a 30% chance of making the company a strong 3rd player in the mobile platform wars. RIMM had a commanding 40% share of the smartphone market in 2008, it's currently hanging onto less than 10% of the market.  But the Jefferies analyst says if it can get back to just 20% with a revitalized platform, that could mean a $42 stock price!
Yeah well that all sounds good – but if hopes and wishes were popes and fishes, we could open a Catholic Red Lobster.  I just made that up, I don't know.
But I want to consider the implications of the potential for RIMM-mentum, because a comeback for the Canadian Calculator is far from being priced into anyone's strategic thinking at this point.
If the RIMM comeback turns out to be real…
1.  This should have stock-boosting implications for many other tech companies that have been knocked the f*ck out by the Apple Hegemony – indeed just this past Friday we saw a tech rally led by the Apple Victims Support Group – Dell, Hewlett-Packard, AMD etc all ran up over 4%, in concert with a banner day for RIMM.  The thinking here is that even loss of massive mindshare and marketshare need not be permanent and perhaps Apple is not going to take 100% of the computing biz after all (Samsung's been proving that for a year now, but who's keeping score?).
2. It may also help the entertainment-related stocks that are essentially now seen as mere flies caught in Apple's spider web. I know this is a stretch, but follow me on this – if RIMM can come back and take share back, then isn't it possible that the Amazon / Apple raid on Netfliz won't necessarily be a slam dunk?  And how about Pandora? Can't we find room to believe that Apple doesan't automatically own streaming radio just because it enters the field?  If RIMM proves there's a market for a 3rd smartphone platform, this could mean rethinking of the competitive landscape all over the ecosystem – and a rejiggering of multiples.
3. Also, I would likely be the primary beneficiary of a resurgent RIMM. To be clear, I hold precisely zero shares or call options on the stock (longshots and turnarounds are not my cup of tea), but I have become inextricably linked with the company's fortunes thanks to this past spring's CNBC Stock Draft. In case you missed it, Street Signs invited their favorite regular guests on to pick from 20 or so stocks for a total return contest that wraps up this February during Superbowl week.  I had the first round draft pick and, since no money was on the line, I went with the longest of longshots – I picked RIMM in the mid-teens over Google, Apple, Facebook and all kinds of other "safer" bets.  Of course, the stock rewarded me by immediately getting cut in half (the low this summer was 6 and change) and I've since been invited back on air to apologize for the pick several times since.
But!
But if the newly bullish analysts turn out to be correct and this baby really turns it around (in time for the Super Bowl), then I come out looking like a genius. And obviously this is the key.
So root for RIMM, even if just as a spectator – I know I will!
See also my draft pick back in April, below:
LOL