Remember back in the day how Google was supposedly a "great partner" to the newspaper industry?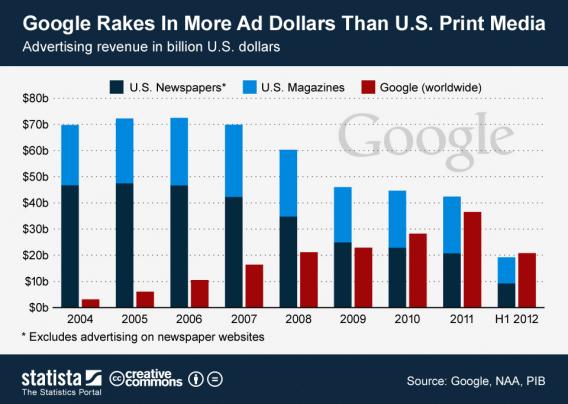 From Slate:
The chart above, from Statista's Felix Richter, plots Google's digital advertising revenue against the print advertising revenue of all U.S. newspapers and magazines. If Google and content providers are indeed "partners," it's pretty clear that one partner is getting a lot more out of the deal than the other. And as for that stake Google had in helping newspapers monetize online? Well, The Guardian's Roy Greenslade estimates that Google's total revenue also now exceeds that of the entire U.S. newspaper industry even when you count digital ads.

If Google did have a stake in the newspaper industry's success, now might be a good time to go ahead and pull it out. The blood's probably already dry.
Source: