"Do you want to be right or do you want to make money?"
That was the question my boss asked all the rally-haters during the QE2 surge in late 2010. His email inbox was filled with "But they're just kicking the can!" or "Stocks are only rallying because of the Fed!" Believe me, I saw it, legions of investors who wanted their opinions and principles validated rather than their P&Ls in the black.
And Barry was certainly not alone, think about David Tepper and his "Balls to the Wall" rally positioning.
Mitt Romney played the campaign exactly the way a great investor would – if you had cornered him somewhere out of earshot and looked him in his eyes and asked "Mitt, do you want to be right or do you want to be President?" his likely response would have been something to the effect of "Me becoming President is right."
Mitt was about the win, by any means necessary.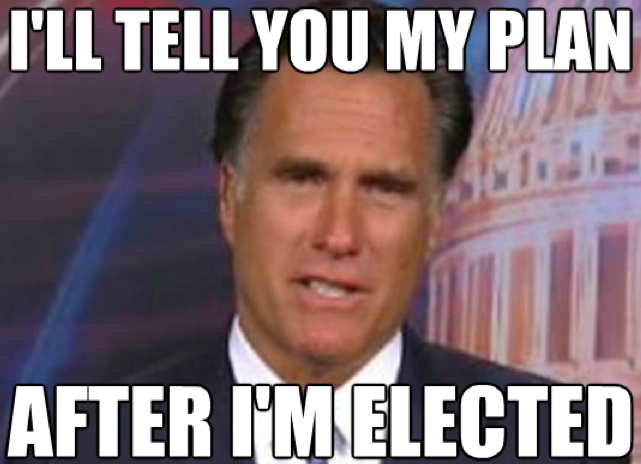 A great investor doesn't care as much about being right, a great investor cares about making money. Mitt didn't care about getting his entire party to agree with him on what he thought was right (his core principles, if they exist at all) – he was about the game, getting his party to choose him over a host of other candidates that were probably more aligned with the base (Bachmann practically sprung from the GOP Orthodoxy's womb fully-formed like Athena from the cranium of Zeus).
This is how you get from "severely conservative" in the early stages to Caffeine-Free Obama Lite by the end of October. "Whatever is takes to win," was the mantra, same as it should be for those managing assets and trading stocks.
Mitt put principles last, winning first – and he won. He got to the big show, despite the fact that his Northeastern business-oriented conservative pragmatism was severely out of step with the Faith-n-Firearms party that backed him. People can complain that he then "tacked center" but, well, c'mon – please name a single candidate who has ever emerged from the primaries into a national race without doing so? That's the gig, this is how it works – get the base, then get the middle. He got very close to nailing it, going so far as to do a 180 on several issues inside of four months.
A great investor prefers to win, and if they win because they "were right," that's just a cherry on top. In investing, this means cutting losses and not taking too long to wake up as to why, perhaps, the market is correct in its pricing of a given security after all.
There has never been nor will there ever be an investor as successful as Peter Lynch, his track record is unassailable (Lynch averaged 29% annually for 13 years – averaged!). There are no shortage of stock-pickers who've come and gone over the decades and have attempted to match that record – but there has only ever been one "Chameleon." Lynch dropped whichever rules were slowing him down and adopted new ones on the fly so as to be able to perform in any market environment. It became his trademark.
Maintaining a consistent style was not the thing, winning was the thing and goddamn did Peter Lynch win. Again and again and again.
Sticking to your guns in the face of mounting evidence to the contrary is what Ron Paul does, this is why his principles may remain intact but he will never win the Big Job. Mitt Romney had the expedience and his focus was on victory – this is why he got closer to the win than he probably should have.
Nobody makes hundreds of millions because they're hung up on intellectual satisfaction. The fact that Romney lost the race has nothing to do with it, the method by which he went about running is exactly how you kick ass in the market.