Are You Better Off Now Than You Were Four Years Ago?
That's the question I'm asking myself today, on the Four Year Blogiversary of The Reformed Broker!
Yes, today marks four years since that fall afternoon in 2008 when, just for the hell of it, I went to WordPress and registered for an account. I was reading Kedrosky and Ritholtz and I figured, "I have stuff to say, let's give this a shot." It took 2 minutes to get started, laying on the couch with a laptop. A very simple moment of inspiration on a dreary day – I never could have imagined, in my wildest dreams, where it would end up leading.
The Greatest Adventure of my life, as I call it, began on a lark. I wonder if the phone had rung just at that moment or my wife had called me downstairs – would I still have eventually started the blog? Was I meant to do this all along?
I have no idea. And I'm writing this at 5 in the morning by candlelight in a blacked-out house, so you know I'm feeling mad wistful right now – more wistfuller than Gordon Lightfoot leaning on the railing of an old schooner under the gray skies of an autumn gale. Strumming a guitar and singing a song about scrimshaw or whatever.
But we're here. Since my third blogiversary, quite a bit has gone on that is worthy of note:
1.  The blog has more than doubled in the last year based on every important metric there is. This is thanks to you, my readers, visitors, colleagues, fellow bloggers, friends and mother's friends.  If you're curious, these are my stats for last month (October 2012) to give you some sense of where we are (the green rates of change are sequential – October over September – we're having quite a growth spurt this fall):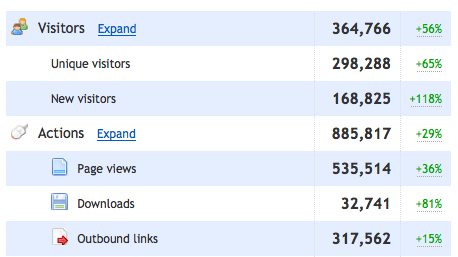 Here's another chart, this one generated directly from WordPress. Their traffic stats don't match up nominally with Google Analytics or Clicky but directionally speaking and trend-wise, they're the same. I think they have different collection methods or categorizations of "actions". But here's the WordPress monthly through this morning, for what it's worth: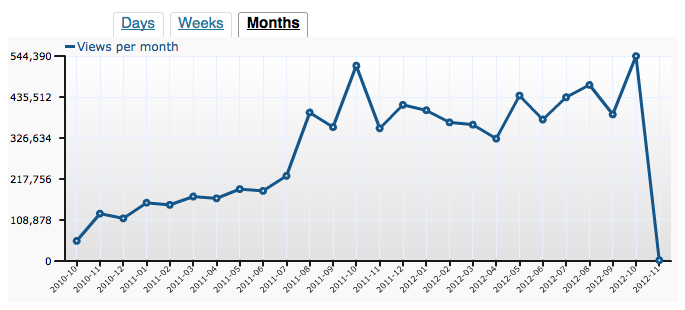 2. The book finally came out in March of this year, I began writing it in April 2011. I was really nervous just before it came out but everything worked out great. We had a huge star-studded launch party for it and I did more media this spring than a Bristol Palin perfume launch (Alaskank, pour femme).
In addition, Backstage Wall Street outsold the following financial books this year:
Jon Corzine's 101 Trading Rules I Don't Follow (Wiley & Sons)
The Altucher Identity (self-published)
Blankfein: A Life (FT Press)
The Little Book of Getting Crushed by Biotech Stock Tips (Wiley & Sons)
Abby Joseph Cohen: No, I Wasn't the Maid on the Brady Bunch (Harper Collins)
I believe the book was so successful because of my "viral" video campaigning, an example below:
(God, I still can't believe I got talked into that)
BTW, I've already signed for my next book, tentatively titled 'Tuesdays with Barry'. It's being billed as "a gastronomic tour de force, join two of the nation's most well-fed financial pundits as they…" yada yada, you get the idea.
3. Obviously, social networking has been a big part of the success of this blog. The other day I passed 30,000 followers on Twitter, something I'm very proud of. I hope to accumulate many more Twitter followers and Klout points, all of which I intend to leave to my children and to my children's children and so on.
4. Also – and I'm announcing this for the first time here – I've just signed a contract with CNBC, becoming a Contributor to the network as of this past month. I can't talk about the rituals involved during the signing ceremony, let's just say they involved a red-hot peacock brand, chanting in unison and Jim Cramer in a hooded black robe. Just kidding. I'm really excited to be a CNBC Contributor, they've been really good to me (thank you John and Lori!) and I genuinely enjoy working with all of the incredible producers and talent I've met there.  I'll be making several other announcements in the next day or so about new media projects I'm involved with, stay tuned.
OK. that's it from me – if I talk about myself anymore I'll probably vom. So on the fourth blogiversary of The Reformed Broker, I'd like to say thank you. It would be redundant for me to tell you how you've all helped change my life for the better. Let's simply say that I owe everything to those of you who take time out of their day to check in with TRB, reading and interacting with me here. I can honestly say that yes, I am better off now than I was four years ago. Decidedly so.
And it's all because of you. Four More Years!
– Downtown Josh Brown
Long Island NY, November 1st 2012
Read Also: