My bond inflows piece from Friday kicked up quite a dust storm of controversy, 45 comments and counting, many from the Japandroids* who have been secretly waiting for this parallel all along.
My friend Chris Kimble of Kimble Charting Solutions sent me an interesting chart that makes a very good point to complement what I've said: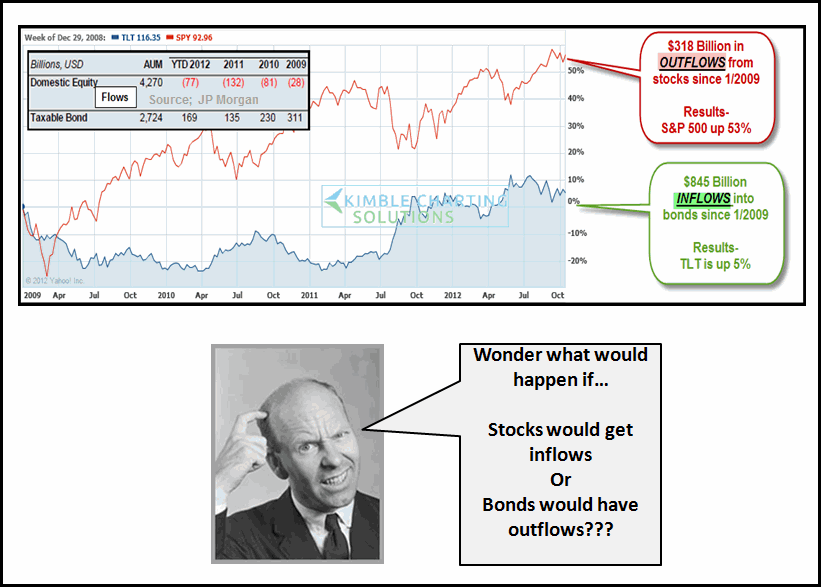 I'm not sure if the TLT performance number includes dividends (the underlying bond interest payments) but I also don't know if the SPY yield is included either. Even still, the idea that the most widely-held stock market index fund could put up a gain of this magnitude against massive net outflows for so many months is fairly remarkable – it does make one wonder what might happen under a scenario of willing equity investor participants…
Re: the TLT flows vs performance, definitely a head-scratcher. Unless we are Japan.
Read Also:
33 Times, You Poor Dumb Bastards (TRB)
* What is a Japandroid? I made that up just now (nicked the name from an indie band) – it's how I describe those who reflexively, almost robotically, respond with a Japan comparison anytime some hints at the fact that Treasurys are overdone to the upside. The Japan comment is always on the tip of their tongue, they are waiting for you to mention Treasurys so they can do their JGB rant. It goes something like "Yeah but people said the same thing about Japanese government bonds in 1994 or 2004 or blah blah blah." Now of course, the Japandroids could be right, but if they are, whether or not there's a blow-off top in bond prices will be the least of our worries.