The aging of the developed world's workforce is the cliff no one's talking about. It's very bad, we're going to have these upside-down pyramids in the largest economies where the working age people are supporting a growing pool of their non-working elders. This is why I am for the immediate implementation of death panels. I'll even pull the lever myself.
Anyway, the US actually has it less bad than the rest of the world, we're the skinniest girl at fat camp. So huzzah!
I nicked this chart from a Fidelity research report: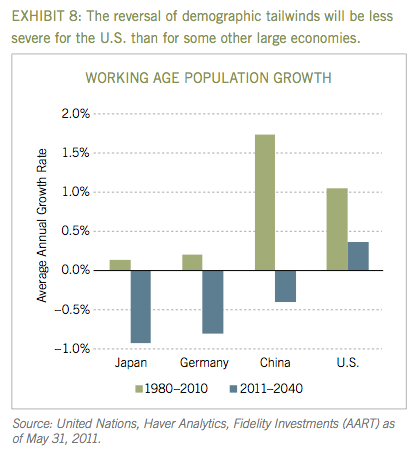 The solution will obviously be robots. Not kidding, seriously. We're going to have to get super-productive going forward to deal with this reality. Or start having a lot more sex sans contraceptives. Or we could combine the robot thing and the death panel thing AND the sex thing into one freaky societal cocktail of pleasure spiked with pain.
I'm going to stop now.