No it's not you – the Top 40 format has never been worse since since the invention of radio.
You know the causes: changing demographic dynamics, the dissolution of the album artist, the hegemony of the digital single, the labels' disregard for careerism among their roster of acts, the iPod-as-cost-efficient-DJ trend, the death of regional tastes and local music discovery, the compartmentalization of micro-audiences and sub-genres, the rent-vs-own streaming trend, etc.
This current moment has been a decade in the making. We knew this was where we were headed years ago, check out this chart produced by Ars Technica in April 2007 forecasting music sales according to the then-current trend: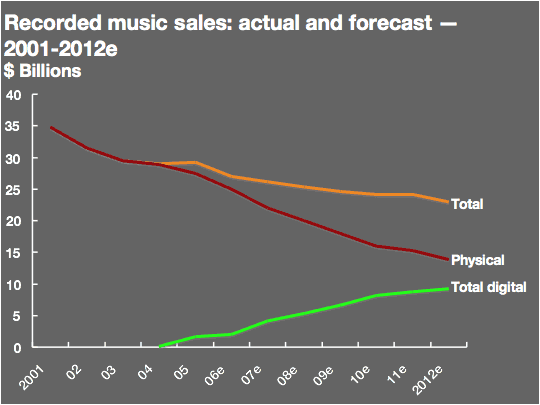 The funny thing is that things actually turned out worse than they were expecting. My kids think music is free and water is something you pay for. Bands used to go on tour to support an album. Now they go on tour to support a prescription drug habit and hope the label doesn't drop them before one of their songs gets used in a commercial or on a sitcom – at least then there'll be a royalty payment to split with their ex-wives in five years.
In the New York Metro area, one of the most populous FM radio markets in the US, we have three Jersey Shore stations – 103.5 KTU, Z100 and whatever the hell 92.3 is calling itself this month. We have exactly zero modern rock format stations, no doubt the subject of a future post for me. There are two urban stations (Hot 97 and Power 105) playing repetitive chains of R&B jams that all might as well be one long song. Our urban radio stations, which at one time were national hip hop taste-makers, are now interesting only insofar as the DJ rivalries between them sometimes lead to actual violence in the real world. Then there's the world-famous oldies station 101.1 CBS FM, which is not only still alive – it is now playing Aha's Take On Me, each time tugging one more thread from the delusion that I am somehow still young. Q104.3 is the classic rock format, the closest they get to rock of this era though is playing cuts off Pearl Jam's Ten here and there. Otherwise, it's Beatles through Springsteen 23.9 hours a day. Lastly, there is 106.7 Lite FM, which is essentially dentist office waiting room muzak half the year and then Christmas music from August through January 3rd.
And so most mainstream listeners simply default to the pop formats on an everyday basis. As a result, this is what is playing in most cars, most of time (a J Lo selection I believe to be highly representative lyrically of the other hundred sound-alike songs on the air):
If you go hard you gotta get on the floor
If you're a party freak then step on the floor
If your an animal then tear up the floor
Break a sweat on the floor
Yeah we work on the floor
Don't stop keep it moving
Put your drinks up
Pick your body up and drop it on the floor
Let the rhythm change your world on the floor
You know we're running shit tonight on the floor
Brazil, Morocco
London to Ibiza
Straight to L.A. New York
Vegas to Africa
Now that's the idiotic J Lo song of the moment. But they're all the same. Also, pay no attention to the fact that she's mid-forties and most certainly not "running shit on the floor" these days. No, Jenifer is much more likely to be found counting her American Idol cash or huddled with her lawyers crafting a reverse-paternity protection policy for the next time she impregnates one of her male dancers out of wedlock.
And yes, in case you hadn't noticed, one of the key considerations when making a new song for this market is to be certain there's at least one command for the listener to either put their drinks up or put their hands in the air, this is crucial.
Now you might say, "But Josh, every generation thinks the music of their youth is superior to what comes after it." And I would agree – but then I would also admit freely that my parent's generation had better music than my own when they were teens in the 1960's and yet mine was better than what my old babysitter would have considered her's (imagine being a teen in the late-70's / early-80's? That era's pop music hasn't held up very well…) And then I would pull out the Top Ten singles or artists or album sales lists from various points in my childhood or young adulthood and negate the whole generational solipsism argument in the blink of an eye. Because while there've been some notable Pop Music Depressions in my lifetime (1990 comes to mind, so does 2007), this current period compares unfavorably with every single other in the last 35 years. In every way.
25 years ago this week (October 1987), America's top ten album chart (according to Billboard) included Whitney by Whitney Houston, Bad by Michael Jackson, Def Leppard's Hysteria and The Joshua Tree by U2. It's almost an embarrassment of riches, the number of all-time great singles coming off just those four records is mind-boggling.I could point to 1985, 1991, 1993 etc and show you similarly glorious moments.
And then ten years ago the album died. The album charts have never been meaningful since. Take this week, ten years ago, as an example: The top two albums in the country today in 2002 were Forty Licks by the Rolling Stones and Elvis 30 #1 Hits – two Best Of packages from artists who first emerged half a century ago. Rounding out that same 2002 top ten were such shitboxes as American Idol: Greatest Moments (an anthology of amateurs doing karaoke for an audience of walking fannypacks) and then albums by Xzibit, Avril Lavigne, Good Charlotte and Disturbed. Who? I know.
And then we look at our current top ten singles charts (I'm doing singles because the only people who buy albums now are Boomers every time James Taylor coughs something up into his bedside phlegm bowl or indie rock d-bags like myself who can't bear the possibility that the resurrection of artful popular music might happen thanks to a band I didn't "discover"). Sorry, anyway, when we look at this moment's top singles chart, we see such aural poison as Maroon 5 and Ke$ha in pole position. Then we find not one but two tracks by Taylor Swift, revenge dirges accounting for the two ex-boyfriends she's accumulated between her last album's release and this album's recording sessions. Bieber's in there and so is Pink. So is the Gangnam Style novelty song from South Korea, interesting in that it's actually the video that makes the joke work and 2/3's of the lyrics are not in English. The only thing remotely tolerable in this top ten is the collaboration between Carly Rae Jepsen and Owl City on Good Time, a track perhaps produced in a Swedish laboratory in a madcap attempt to assemble the sugariest pop confection of all time.
What's even sadder about the above-detailed State of Top 40 Radio is the fact that while that this pop-schlock open sore is festering, a band like Mumford & Sons can see their second album debut at #1 in the country and sell 600,000 copies in its first week. AND YIELD ZERO TOP TEN SINGLES. For emphasis, Mumford & Sons' new album Babel outsold Justin Bieber's new piece of shit by double and yet my daughter and wife couldn't pick these guys out of a lineup let alone name a single track of theirs.
No, this is an act borne of the bars and pubs of England, nurtured on the alt music blogs of the web and made massive on the strength of digital downloads and streams. The radio is simply uninvolved!
And I suppose it'll stay that way. The current formats and playlists are indicative of an ongoing self-disrespect at Clear Channel and whatever the other oligarchic death factory is called that owns the rest of the country's frequencies. It's almost as though radio stations prefer irrelevance and the absence of a sentient, thinking listenership. If this is the case then they win – we're off to iPodville and Spotifyland forever.
Enjoy your Black Eyed J Lo Bieber Peas, you fucking morons.