I'm not a technical analyst but I know how to use technical analysis.
I've explained before that I believe fundamentals tell you what to buy, technical analysis tells you when to buy it (or when not to or when to sell etc).I've rubbed elbows with some of the greatest fundamental equity analysts working today, amazing stock pickers  – and I believe all of them would have a shot at true, everlasting glory if they would just respect the basic tenets of supply and demand.
My core belief is that having the ability to analyze both a company and its stock price, separately and then relatively, is superior to living or dying by just one discipline or the other. It's what we try to do here every day with both stocks and indices (hence the name of my shop, Fusion).
Anyway, with that preamble out of the way – two very quick and dirty charts on two of our holdings, both of which could be considered as exhibiting my favorite set-up.
I call this set-up the Awakening Giant.  In a nutshell, these are big, well-managed companies whose share prices have flat-lined for an extended period of time -so much so that there are no sellers left and no one is paying attention to them any more. This leads to clean charts with well-defined resistance and support levels and not a lot of volatility or whipsawing back and forth. And then I want evidence fundamentally that something is changing – either at the company or among the market players' perception.
Here's Wal-Mart ($WMT), exploding out of a 12 year period of stagnation, thanks to the torture of PE multiple compression…that's how it triples its earnings per share in the last decade but the stock price spends that whole time coiling up for this big move, which we caught over the summer:
(Click to Embiggen!)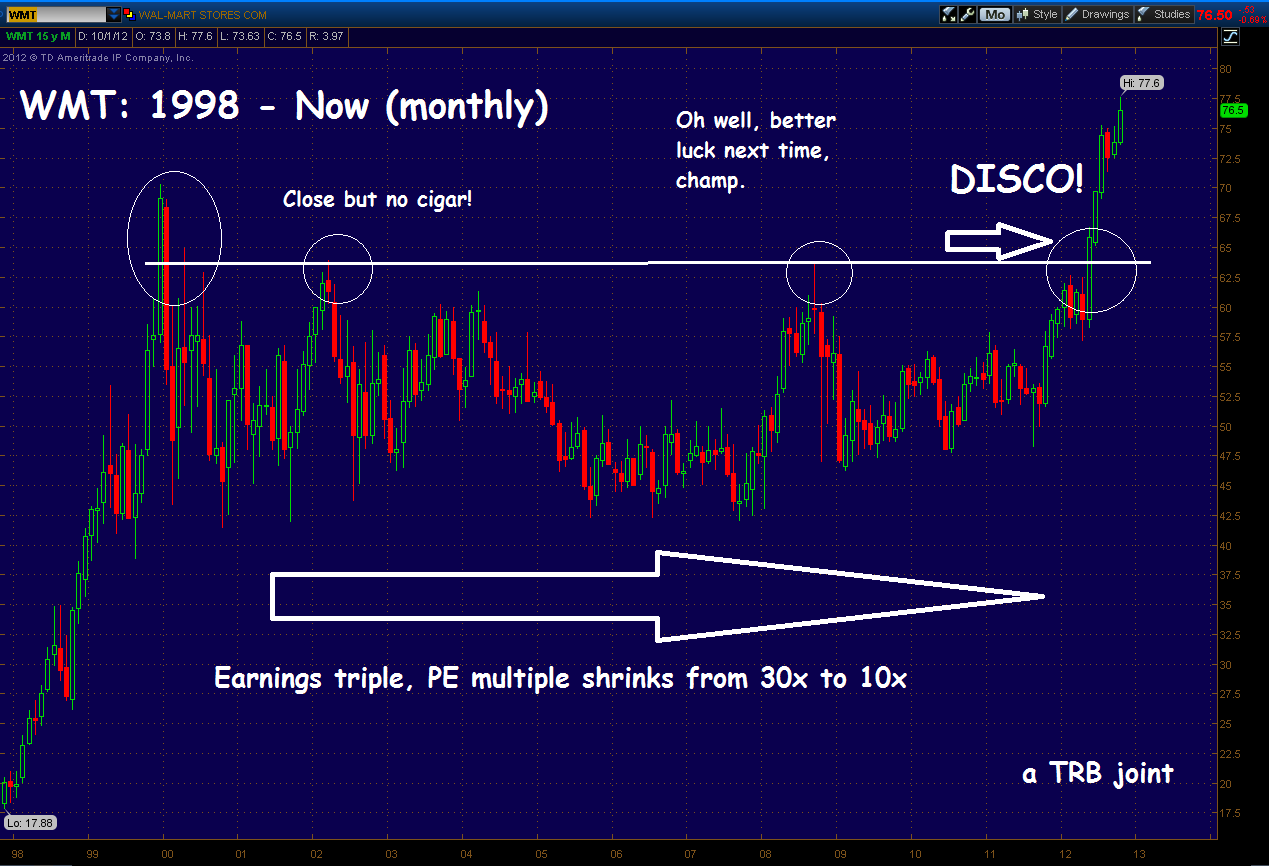 I bring this up because two days ago we put on a trade in Johnson & Johnson ($JNJ), a long position at 69 and change, and the set-up is almost identical.  Here, like with Wal-Mart, we have a gigantic, well-run company that's essentially done nothing for ten years. It's been forgotten. Even amongst its own industry – consider that the healthcare sector was up 24% YTD at the start of this week while JNJ was up less than 5%.  There was a good reason for this under-performance and a good reason for why it should narrow going forward.  JNJ is three businesses in one: The pharma part of the company is firing on all cylinders, the medical devices part has also been on fire thanks to an acquisition of Synthes which became accretive ahead of expectations, but the consumer products group has had its worst year ever thanks to recalls of Tylenol and things of that nature.  But when the company reported earnings Tuesday morning, they were able to allay The Street's concerns and report quite a bit of progress on FDA monitoring, litigation settlements etc.
And that's when the breakout began, the stock is pennies from all-time highs:
(Click to Embiggen!)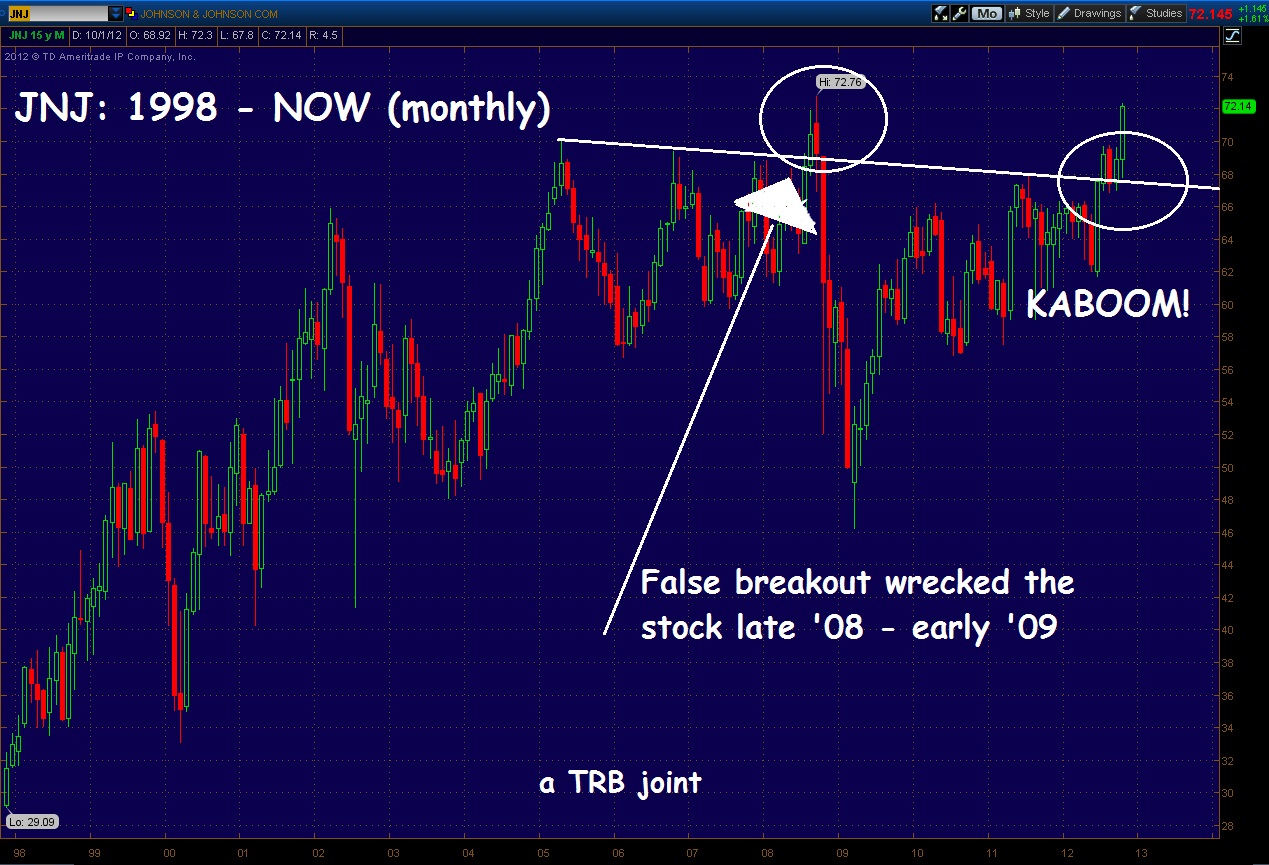 Anyway, these are my favorite types of set-ups. They have a combination of all the things I'm looking for in an equity investment – not just quality but timeliness and a lack of natural sellers. Keep in mind that we typically watch weekly charts rather than daily. More often in a stock like this, we are investors rather than traders. Whether or not the breakout to all-time highs happens now or in a month, it shouldn't matter. We're happy to collect that 3.5% dividend while we wait.