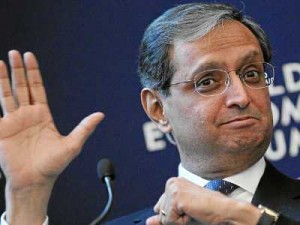 That was the tagline for this season's Boardwalk Empire, but a fitting reminder on a day such as this one, when one of our Too Big To Fail banking elite throws in the towel.
Vikram Pandit inherited quite a mess at Citigroup and to his credit, he did manage to keep the wheels from falling off and made nice with his government saviors for a period much longer than many would have been able to. Bankers in the modern age, especially global ones, don't take kindly to having rules and bosses – so Pandit's patience as others kicked his tires and peppered him with various demands and edicts was commendable.
But he did sell his Old Lane hedge fund to Citi at the top of the market for asshole acquisitions (2007) for $800 million. And then that hedge fund was closed a year later. So maybe he stuck around as CEO out of a sense of guilt.
Or maybe it was the $260 million he would end up making in compensation over the last five years for running the largest insolvent global bank in the world.I suppose we'll never know. Vikram Pandit is like the wind, in that way. Unknowable, unable to be tamed.
But Pandit's heart clearly wasn't in it anymore. He certainly wasn't willing to go the distance like his counterpart Jamie Dimon – from defense to offense, ashamed to publicly defiant. No, in the end, Pandit simply didn't have it in him to play this role any longer. You can't be half a gangster.
Goodbye, Vikram. And on behalf of the taxpayers, I thank you for your service.
Anyway, my instant reactions followed by some related links: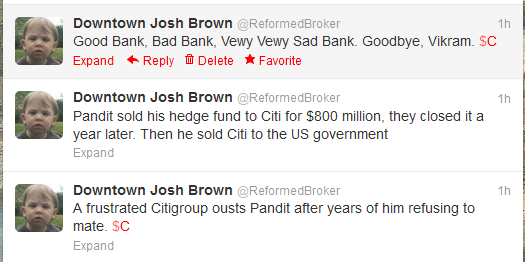 Read More:
Pandit Steps Down as Citi's Chief (DealBook)
Citigroup CEO Vikram Pandit Resigns (Reuters)