Are the mall jobs back? Can 16-17 year olds once again find gainful employment in the United States? if so, what are the ramifications for the cottage industry of Call Me Maybe parody videos?
I don't know…
But let's go to the charts though and see what the data said about US unemployment by age, courtesy of Floating Path:
Nearly all age groups improved their unemployment rates considerably in September.

16 to 17: 25.3%, a whopping 4.0% better than the 29.3% in August.
18 to 19: 22.8%, 0.1% higher than the 22.7% rate in August.
20 to 24: 12.4%, 1.5% lower than the 13.9% in August.
25 to 34: 8.1%, 0.2% lower than the 8.3% rate in August.
35 to 44: 6.3%, 0.3% lower than the 6.6% rate in August.
45 to 54: 6.1%, 0.3% lower than the 6.4% rate in August.
55+ : 5.9%, unchanged from August.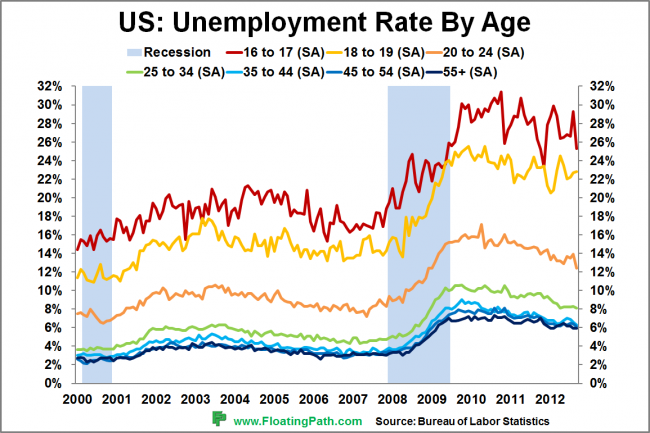 It's a veritable rainbow of improvement. But can we keep it going?
Make sure to head over to Floating Path for all the charts on unemployment through 9/2012, including by race, by gender and by Courtney Cox/ Jen Aniston preference.
Source:
The U.S. Employment Situation, September 2012 (Floating Path)