You may have been too busy enjoying your stock market gains to notice (and that's understandable), but September was an absolutely atrocious month for US economic data, almost every single report was a dud save for some housing-related stuff.
This morning, the September Chicago Purchasing Manager's Index (PMI), a measure of business activity, went negative (below a 50 reading, which indicates contraction) for the first time since 2009.  But unlike the rest of the parade of ass-tastic econ data points, this one the market is paying attention to – after having blown off the last few, the Dow is off 100 points as of this posting.
Here's a chart of Chicago PMI overlaid with GDP growth from Scotty Barber at Reuters for some perspective: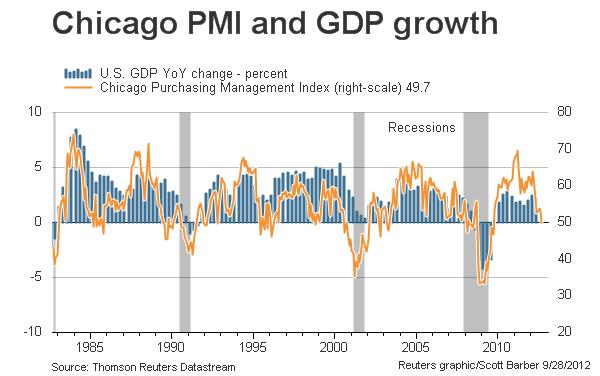 Not good, gang.