Here it is, that No F***ing Way moment where the stock market picks up right where it left off five years ago as though nothing ever happened.
We've literally erased 2008 and its aftermath off the charts this month (even if not from our minds).
Below I'm showing you the S&P 500 Total Return Index (includes dividends) which is at a new all-time high, above the previous highs of late 2007 just before the financial crisis got underway: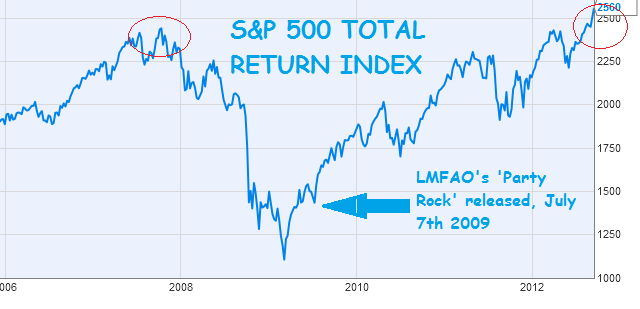 Here's BAML's Savita Subramanian, head of U.S. Equity and Quantitative Strategy, reminding us of how far we've come while rolling out a the firm's 2013 target:
Initiating a 2013 year-end S&P 500 target of 1600 

Our 2013 year-end target of 1600 implies a 10% price return, where most of the appreciation can be attributed to earnings growth of 7% next year, along with modest multiple expansion from 14.2x to 14.7x on trailing earnings, still below an average PE of 16x. This would represent a new all-time high for the S&P 500, surpassing the 1565 level reached in October 2007. But the S&P 500 total return and equal weighted indices have already broken through their 2007 highs, as have the sector indices for Discretionary, Staples, Health Care and Tech (and the NASDAQ). Meanwhile, S&P 500 EPS hit new highs in 2011.
Indeed, when you look at healthcare you see all-time highs.  When you look at the tech sector, you see 11-year highs.  Many of these sectors have left 2008 in the dust already but most people still haven't come to terms with that yet.
At a certain point, it's okay to stop licking one's wounds and reliving the horrors of the past – while retaining the lessons learned and the wisdom hard-earned through experience.
Move on, the markets have.
Read Also: