Secular bull and bear markets – and how we ought to invest during them – are a recurring theme in the work we do here in our shop.  Dave Wilson's Chart of the Day from yesterday came from a Tobias Levkovich (Citi) report that looks at the intersection between demography and economics / markets.
I was talking to Barry about this yesterday and the timeline of a boom in 35- to 39-year-olds coincides perfectly with the timeframe we're guesstimating as the end of the secular bear market we've been in since 2000 (they tend to run 17 years on average).
Check this out (Click to Embiggen!):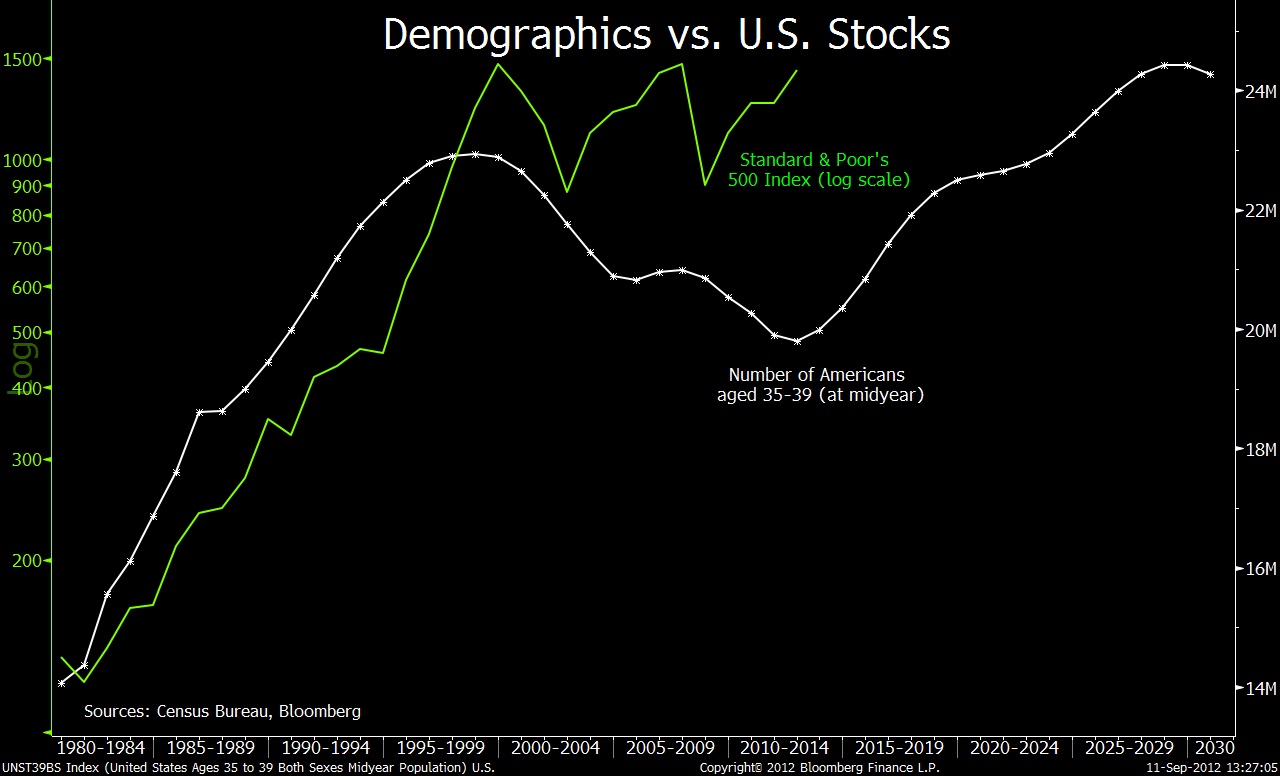 Here's Dave:
Demographics are about to shift in favor of stocks for the first time since the 1990s, according to Tobias Levkovich, Citigroup Inc.'s chief U.S. equity strategist. The CHART OF THE DAY compares the number of Americans who were 35 to 39 years old at midyear, as compiled by the Commerce Department, with the Standard & Poor's 500 Index's performance since 1980. This age group is poised to increase for the next 17 years, according to estimates compiled by the department and presented in the chart. The outlook reflects the aging of the echo boom generation, or children born in the 1980s and 1990s to post- World War II baby boomers. Americans in this category are entering their "savings years" at 35 through 39, Levkovich wrote in a Sept. 7 report.

Saving and investing by the echo boomers "would generate a new set of equity fund inflows," he wrote. This year's total of 19.8 million people is the smallest since 1989 and 14 percent lower than a record set in 1998. The peak was reached during the Internet bubble of the 1990s, when the S&P 500 and other market benchmarks soared.
Great stuff.