Sometimes they're right, sometimes they're wrong and sometimes they're photographed coming out of a Trader Joe's with a wet head and pajama bottoms on, sunglasses barely concealing their embarrassment as they stuff three grocery bags filled with those amazing ice cream cookie sandwiches into the trunk of a Chevy Tahoe.
But I find their work instructive insofar as they help me frame my own opinions with the actual data and estimates they put together, even while I ignore their conclusions and price targets. So here's your scorecard as to which major Wall Street strategists are bullish, bearish or neutral into year-end thanks to Barron's this weekend:
The mean year-end S&P forecast of the group's seven optimists is 1446, which suggests stocks will rise 15% for the full year. John Praveen of Prudential leads the pack, with an S&P price target of 1480.

The bears, though fewer in number, also are filled with conviction. Barclays' Barry Knapp sees the S&P falling to 1330 by year end, while David Kostin of Goldman Sachs pegs fair value at 1250. Adam Parker of Morgan Stanley is the group's ursa major, with a price target of 1167, based in part on his prediction that corporate profits will decline in 2013.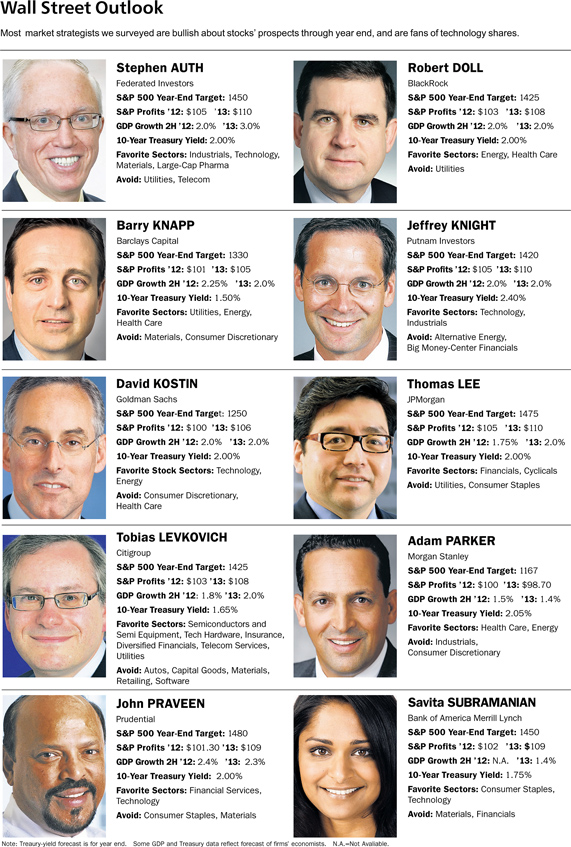 Source: