They say that a lot of life and business is about getting the timing right.  This morning, I got to do something amazing with a group of gentlemen in the investment business who have gotten their timing perfect. Before I go on, a brief disclaimer:
I need you all to be grown-ups and understand that just because I mention an investment product it does not constitute an endorsement or recommendation. I don't do tips or advice on the web.  I honestly don't care what you do with your money, none of my business – literally.  Okay, hopefully the lawyers and compliance people are satiated, if not, here's my standard disclaimer. Choke on it. 
OK, now they we've gotten that out of the way, let's talk like adults.
So imagine you're an ETF sponsor and marketer, swimming in this pool that has only gotten more and more crowded with every passing month over the last several years.  The elbows of others have gotten sharper in the form of lower internal fees and heightened marketing spend.  The road to innovation has gotten more arduous as everything that can be indexed has been indexed – to the point where they're actually paying indexers to invent new benchmarks so they can ETF them.
What do you do to stand out? How do you put on the necessary AUM and make a name for yourself in the advisor community and among individual investors?
If you're Global X Funds, it's very simple: You nail the timing.
Global X is a relative newcomer to the space but a very creative one.  I've teased them in the past (does anyone remember the Global Fishing ETF?) but the truth is, they've been very helpful to me on the institutional side and they're very serious about moving up the sponsor ladder.  Global X just barely made the top 20 ETF companies based on the August 10th league tables assembled by Index Universe, but it's one of only 21 ETF sponsors above the $1 billion in AUM threshold.
Many of the other names in the top 20 are already household names (Pimco! Schwab! Merrill! State Street!) so you might ask yourself how this company has gotten up there so fast.  Global X has hit the market with four ETFs in the last year that have exactly what the public is looking for.  Rhymes with Shmividends.
This morning I was down on the NYSE to help Bruno del Ama and his company ring the opening bell of trading (I have some pics below).  All of his employees were in attendance as were some valued partners, journalists and some of the many advisors from around the US who use Global X funds in their practice.  We were there to celebrate the one-year anniversary of the GlobalX SuperDividend ETF ($SDIV), which raised $100,000,000 in AUM inside of its first 12 months – an incredible feat on a standalone basis but especially when you consider how many dividend-oriented products are already out there!
SDIV stands apart primarily as a function of its really high 7.5% yield (in a field made up of many 4-and-change-percenters) and its fairly low expense ratio.  It's also a lot more aggressive than many of the other dividend products  (owns the 100 highest-yielding stocks in the world, some of which will not necessarily be able to maintain their payouts).  Almost a quarter of the fund is REITs, the US is kind of underweight (roughly 36%) and there are big overweights you may not expect (like Australia).  So it's unconventional, but investors have voted with their brokerage accounts and this thing has clearly carved out a niche for itself.
Given the success and fantastic timing of SDIV's launch, Bruno & Co have launched a suite of three other dividend-oriented ETFs around it.  There's an MLP ETF with half the expense ratio of its nearest competitor, a US Preferred Stock ETF (which is, admittedly, very bank heavy – 70% or so) and even a Canadian Preferred Stock ETF (I'm guessing they got to that category first…).  Joyce Hanson has more details on these funds over at AdvisorOne, I recommend you read their prospectuses (prospectii?) at Global X's site prior to doing anything.
But let's get back to the issue of timing, because that's really the fascinating part.  In speaking with some of the Global X guys at the reception, I learned that the company currently has 55 or 60 new funds in registration.  Which doesn't mean they're all coming out, necessarily – it means that if the timing is right and it seems that there could be a ten to fifteen-year tailwind for a given theme, the company will push one forward onto the tarmac.  What they don't want to do is smash a product through the sales and marketing channel for every flash in the pan, fleeting fad in the markets.  A fund can sit in registration almost indefinitely, the risk to Global X is that a competitor rips off an idea before they can get it launched.
But on the dividend theme and related products, the company feels that they've got a long-term tailwind, even if the recent obsession fades.  Retirement income needs to come from somewhere and it ain't coming from the Treasury anytime soon.
A veteran advisor who spoke briefly this morning pointed to the 1950's as an interesting analog.  In the 50's, the government was holding down interest rates as they are doing today (in order to fund the WWII debts we'd incurred).  And back then, dividend stocks were the beneficiary of this pinning down of bond income – the US market rose over 430% with Dividends making up almost half of that total return.  More about the 1950's analog from this February article at WSJ.
The below chart (from a June 2009 Eaton Vance white paper) gives you an idea about how important dividends were during that decade of artificially low rates: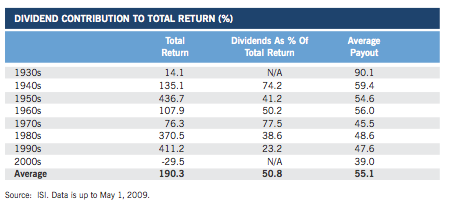 Now, the 1950's is not a perfect comparison for obvious reasons.  But is a decent one from the perspective of understanding what happens when bonds are purposefully rendered unattractive for an extended period of time.  The money's going to flow to where it is treated best; many charts of megacap div-payer stocks look like they know exactly how to treat that money, baby.
So Global X's product launches seem to have hit the sweet spot for this theme.  I have some more of my own work to do in terms of deciding which of them (if any) we'll be working with going forward, but it was very cool to celebrate the company's success this morning and to watch innovation and timing pay off.
Some iPhone snapshots:
Here's the NYSE from outside, still intimidating no matter how many times I've walked by or been inside: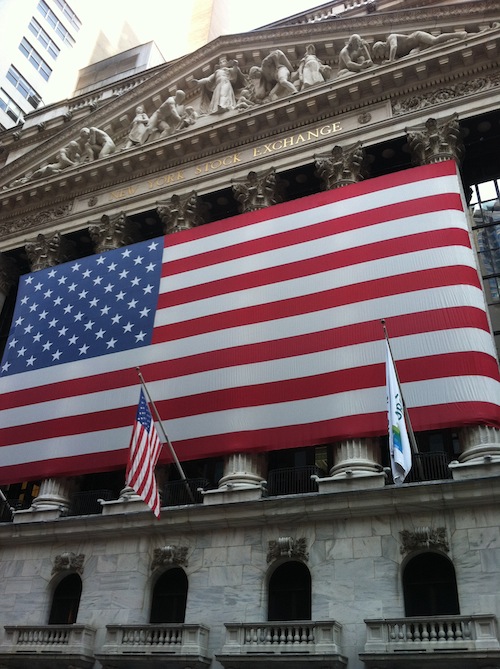 Here's that crazy, gigantic board room (the one that inexplicably has a giant urn in the corner with the ashes of Czar Nicholas: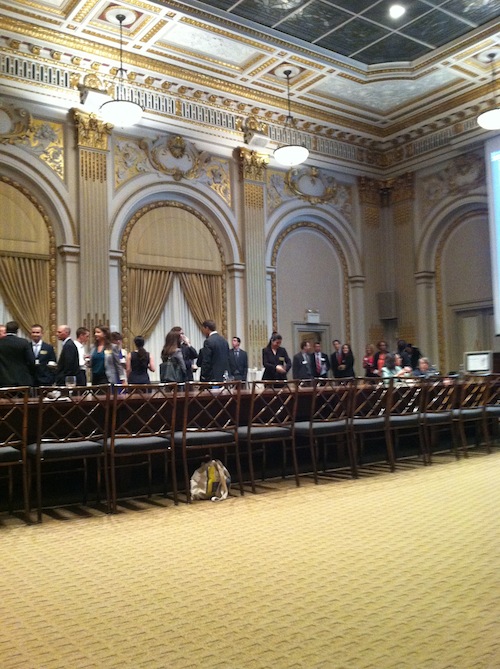 Dividend ETFs on a 70 foot projection screen, in case we didn't get the message, lol: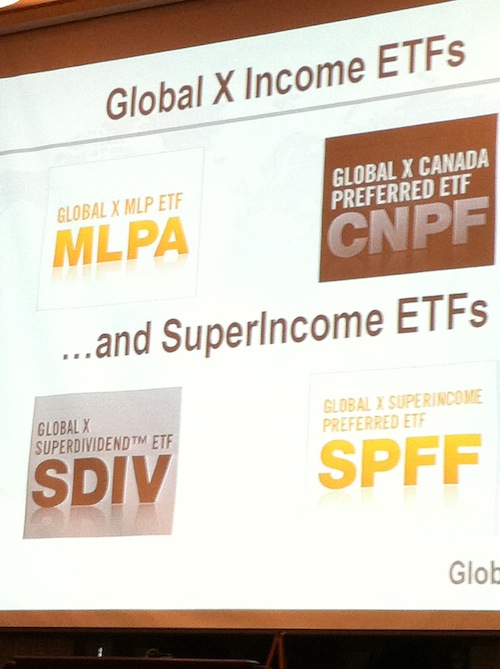 OK, this is the view of CNBC's set-up down on the floor from the bell ringing podium, you can see Melissa Lee and David Faber at the desk for Squawk on the Street, Jim Cramer off to the side, standing: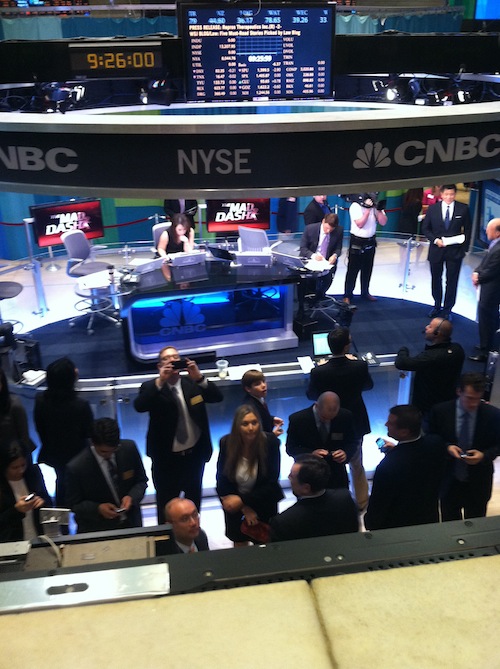 Here's the bell table itself.  The gavel is ornamental – there's a big green button you hold down beginning at ten seconds before 9:30 (or 4pm):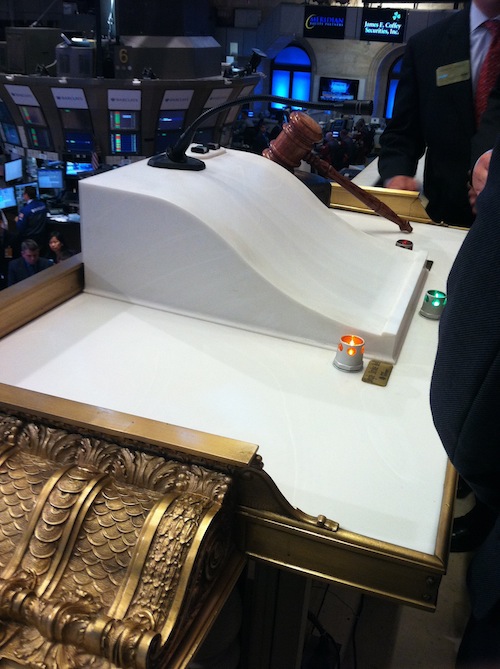 And here's a shot at the crowd assembled below, just before bell time this is what you see: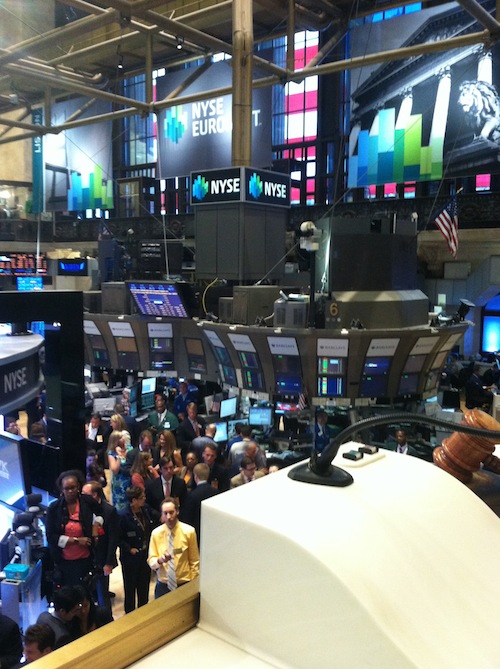 Updated: Here's the video…
All in all, not a bad way to start the week.  Thanks to Global X for having me down today.
No ETFs were harmed in the making of this post.