With one more month of summer to go, why not spend it catching up on some of the best financial books of the season?  This is Book Week on TRB, a new one each day that you may have missed and should definitely buy/download.
***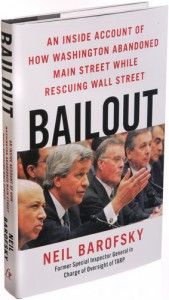 Welcome to a world where shifting allegiances between government employees and the private sector firms they have ties to – real or imagined – determine the economic fate of an entire nation.
Welcome to the darkest corners of that  truck-stop bathroom stall where Finance and Politics meet discretely to do their shameful business away from the prying eyes of the taxpayer.  Suspend all belief as you are a fly on the wall for some of the most tawdry back room deals ever made in the name of preserving the status quo.  Bear witness as once-untouchable banking oligarchs (and the political actors who love and fear them) plot their way out of a crisis of their own making.
Neil Barofsky was there, man.  As the Special Investigator General of TARP (or SigTARP as the college kids call him), Barofsky was in the room – often fighting for the rights of homeowners and taxpayers, often to little avail.  Barofsky tells all in a fluid narrative that's as laden with damning facts as it is eminently readable.
If you're still mad that we saved the BANKS and THE BANKERS as opposed to saving the BANKING SYSTEM, then this is the book for you.  If you're not still mad, you're probably a VP at Citigroup and we don't care what you think, frankly.  You can go read a Grisham novel and fall back asleep.
But for everyone else, this is what you've been waiting for.
Buy it here:
Bailout (Kindle)
And follow Neil Barofsky on Twitter:
https://twitter.com/neilbarofsky