Mike Harris always seems to have a divergent, even controversial take on the market's technicals these days.  This morning he doesn't disappoint.
Harris posits the fact that there are no real "rules" in the market, and that those who responded to one of the big almost-rules, Sell in May, may be headed back with their wallets right about now…
From Price Action Lab: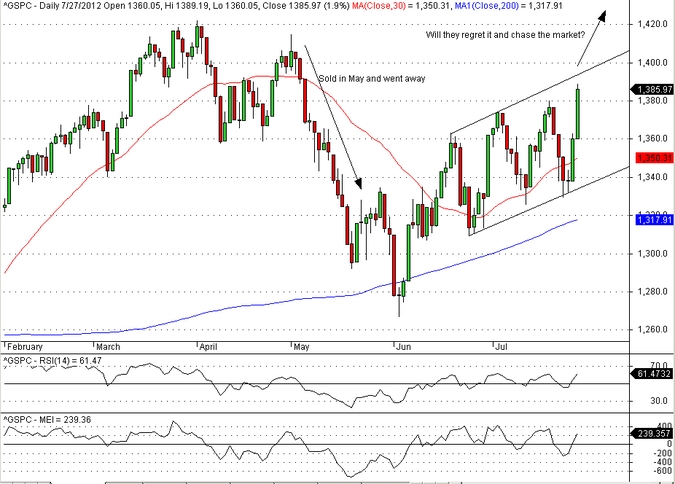 It may be seen from the chart above that S&P 500 prices are getting close to their May 1, 2012 high. It appears that many of those who sold during May are now seeing higher prices. If the market starts getting an upward pressure from massive money chasing it to the upside, many naive fund managers who bought into this "sell in May and go away" thing will see the exit.

A combined QE by USA and EU will send massive new money to the stock markets and that in addition to the sideline money may drive the market to new highs for 2012 and beyond. This is a very optimistic scenario but one to keep in mind. Regardless, the ride will be very volatile and only strong hands will end up making a good return.
Interesting…
Source:
Massive Money May Start Chasing the Market (Price Action Lab)