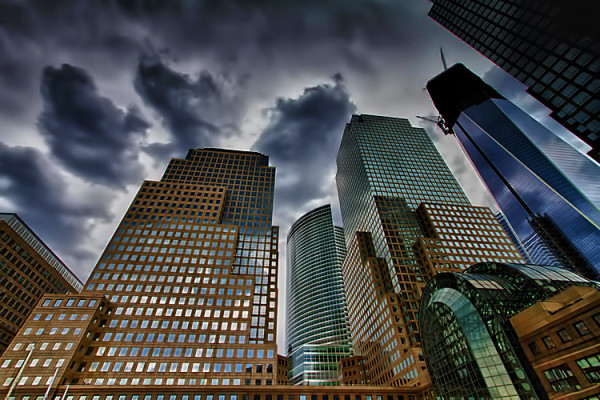 (interior: an oak paneled boardroom with dimmed lights, the muffled sound of thunder from outside the building can be heard intermittently)
Okay, settle down, thank you all for coming this morning.  As the heads of the 25 largest financial institutions in the country, I realize you're all very busy so I'll keep this brief.
I have a plan, you see. It's a daring idea but a brilliant one.  It will require everyone in this room to fight against every instinct and every impulse we have.  To pull this plan off, we'll have to turn our backs on all of the core beliefs and habits that have gotten us to this position to begin with.
(grumbling from the assembled crowd)
Guys, I know it sounds crazy, but just here me out.  Here's the plan:
From here on out, we're going to run our banks and brokerages completely by the book and within the bounds of the law.  We're going to play it straight and keep it low-key.  In short, we're going to stop looking for ways to fuck the customers.
(indignant shouts and table slaps)
Sit down and let me finish.  Gentlemen sit down!  I haven't even gotten to the diabolical part yet.
Now I know I'm asking you to stretch quite a bit here, and yes, I understand that something like this hasn't been attempted in our industry in decades.  But just imagine the possibilities!  We show up for work, we do what we say we're going to do, we hire people who are every bit as motivated to do a good job for the customers as they are to be successful for themselves.  We only offer products and services that we would offer to our grandmothers and children.  We make the fine print into bold lettering.  We eliminate hidden fees or at least disclose them where necessary.  We treat people's money like it's our own.  We stop intentionally blowing massive asset bubbles to profit on both their inflation and eventual bursting.  We get serious about money laundering and account security.  We turn away business and products that add no value to the economy or society.  We compensate employees based on the long-term health of the firm and not based on who sold the biggest piece of shit to the dumbest customer for the most insane price.
Now you're all looking at me like I'm crazy, but hear me out – if we make these changes and start running our financial companies according to the rules and all common sense and decency, the most amazing thing happens as a result.  The people, the customers and the government will stop picking on us.  The investigative reporters stop peeling the scabs off our wounds and the regulators will stop kicking down doors and demanding documents.  We get to stop appearing in front of Congress every six months.  We can probably stop the cycle of bonus-engorgement-into-mass-layoffs as well!  The cost of litigation and compliance will abate and that money can be used productively rather than sitting in a reserve bank waiting for the next disastrous lapse of judgement or oversight.  We can operate our firms free of all the negative stigma, scrutiny and drama we've all gotten too accustomed to.
In short, if we clean up our acts, they'll leave us alone and let us run our businesses.
"But, how is that diabolical?  Get to the good part already!"
You don't get it, that IS the good part.  This will be the greatest scam in American history!
By following the rules and running law-abiding, productive and safe institutions, we'll be able to continue to be what we are – the wealthiest, most powerful industry in America.  We'll continue on in our current roles with all the attendant power and privilege that goes along with that.  We can go back to being private people, no more Capitol Hill testimony, no more newspaper covers, no more protests outside our buildings and no more goddamned blog posts.
Just us and our banks and all of the legitimate money we can earn by following the rules – which is more money than pretty much anyone else can earn on this entire planet.  It's pure genius.
Gentlemen, all we have to do is our jobs.  They'll never suspect a thing!