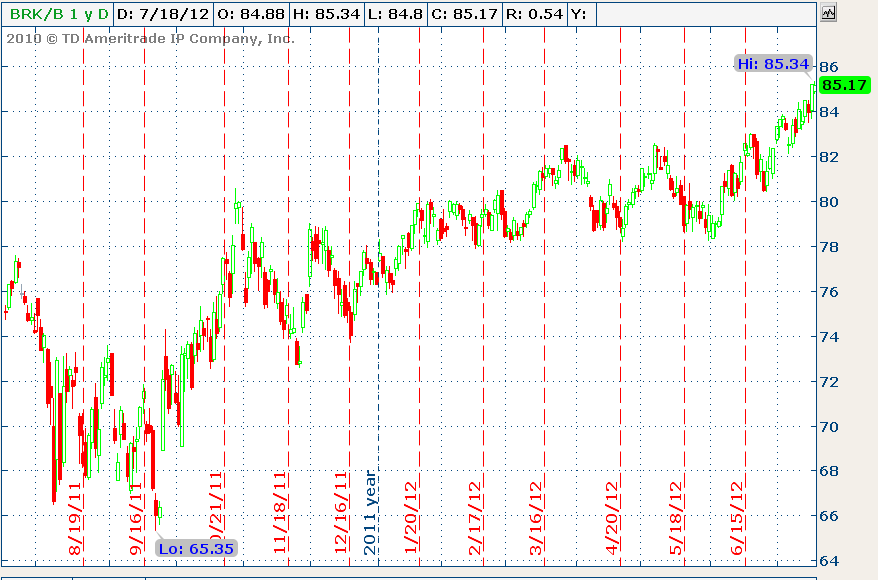 I took a boatload of criticism for my position in Berkshire Hathaway last fall.  We looked at it as a stealth housing play and a backdoor investment in the beaten-down banks we simply couldn't bring ourselves to buy directly.  And people really hated it.  "It's too expensive and Buffett is too old and the company is too big" and on and on and on.  Even my pal Doug Kass gave me a public pillory or two for the position, his reasoning for being a seller of Berkshire here.
But now the stock (we own the Berkshire B Shares) is making a new 52-week high above 85.  It is threatening it's post-crisis highs at the 86-87 level and I dare say I believe it can crash through.  The reason why the stock has gotten this burst of momentum is very simple – Berkshire is the single greatest play on the housing market resurgence extant.  It's got the safety of a well-diversified business and it hits the housing market from virtually every angle – remodeling, re-mortgaging, recovering prices etc.
We got yet another fantastic housing data point today as housing starts increased at the fastest pace in nearly four years.  This comes on the heels of yesterday's soaring Builder Confidence number and a foreclosure stat showing an inventory drop of almost 20%.  We're not talking about housing nirvana or a return to 2006, but this is solid progress.
And it's more than enough to push Berkshire to a 52-week high.  Here's why:
First of all, there are Berkshire's holdings in publicly-traded stocks that are levered to housing, these include:
Wells Fargo
Bank of New York
M&T Bank
US Bank
Westco-Financials
Wal-Mart
Costco-Wholesale
General Electric
Ingersoll-Rand
USG Corp
As far as the Wells Fargo investment, it is massive – Berkshire has 21.4% of its total stock portfolio invested in $WFC with plans to keep buying.  They own 7.32% of all $WFC common stock. Wells Fargo has the largest exposure to the housing market of any major bank, financing 33.9% of all mortgages. Buffett has been encouraging WFC to keep the percentage correlation as the mortgage market expands saying "Wells Fargo should aim for 1 trillion in mortgages if the mortgage market returns to it's $3 trillion peak."
In addition, 45.1% of Berkshire's total stock portfolio is made up of banking or financial names so the company's housing stake goes beyond just $WFC.
Buffett is looking to actively invest in more housing-heavy stocks as he believes a recovery in the market is inevitable. He's been quoted as saying "If I had a way of buying a couple hundred thousand single family homes and a way to manage them…I would load up on them."  It appears that he'll simply settle for doing it with corporate stakes instead.
And while we're not necessarily seeing home prices rocketing higher, we are seeing white-hot activity in rentals.  We're also seeing a renewed wave of remodeling and restoration work as foreclosures are cycling through the system, changing hands and being fixed up for tenants.  Berkshire's portfolio of private companies tied to this type of activity is also fully loaded.
The following Berkshire Hathaway subsidiaries have an interest or stake in the homebuilding or remodeling industry
Acme Brick Company
Benjamin Moore & Co
Clayton Homes
CORT Business services
Johns Manville (roofing systems, insulation)
Larson-Juhl (moldings and framing)
MiTek Industries (international)
RC Willey Home Furnishings
Shaw Industries
Berkshire's B shares are up around 10% this year, a market return but with much less volatility.  We've got it as anywhere from 3 to 5% of client accounts in our core models and plan to let it ride.  The big risks, in our view, are:
The railroad subsidiary (Burlington Northern) disappoints internally because of it's China exposure (they move a lot of coal bound for Asia)
Chairman Buffett or Charlie Munger fall ill or worse (both men aren't getting any younger)
One of the new portfolio managers does something big and reckless that rattles investor confidence
A general market sell-off from exogenous factors (same risk as for all stocks)
But we think those risks are more than balanced out by the opportunity here, and with the post-crisis highs in sight, we are pleased to be along for the ride.
(disclaimer: please do not act on anything you read on this site without first doing your own due diligence and considering your own investment time horizon and risk tolerance.)