"I definitely think what drives technology companies is the people; because in a technology company it's always about what are you going to do next. So then it comes down to: Well, who is going to build that thing that you do next? So, if you have the best people that's a huge benefit, I do think some of what happened with Yahoo was a little bit of that lost focus but I also think that over the events of recent years they've lost a lot of their good people. There's still a lot of good people there we definitely are cheering for Yahoo because we think the web is better off."

– Marissa Mayer to Charlie Rose in 2009
You've probably heard by now that Yahoo's new CEO will be Google's Marissa Mayer.
Mayer is as accomplished as one gets in Silicon Valley – an early Google product and software veteran, she ran search for the company and spent the last decade in the firm's inner circle, quite a lofty place to be.  She's a woman who's made it big in the man's (boy's) world of high technology, and she did it in style (glossy magazine spreads) and for the right reason (talent, business acumen, leadership skills).
Oh yeah, I forgot to mention she's young and gorgeous and personable to the point of press and investor fawning.  A Yahoo shareholder (I think) sent me this last night when the news broke: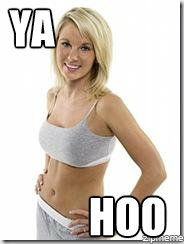 They love her already.
Anyway, by leaving to join Yahoo as the company's new CEO, Mayer accomplishes the following:
1.  She puts a capper on an illustrious career at Google.  This is the equivalent of a musician going out on a high note or the comic leaving the stage on the heels of his best joke, to the sound of applause from the crowd.  More people should leave companies and situations this way.  Google recently reshuffled its ranks under CEO Larry Page and supposedly Mayer was passed over for promotion.  So why not take that as a sign that it's time for a new stage?
2.  She walks into a formerly dominant and still asset-rich web company with almost nothing but potential at this point.  The company is in utter disarray and has been for so long, that even a cessation of disastrous non-progress will feel like, well, progress.  Mayer becomes the company's fifth chief executive in less than a year.
3.  We are told that Dan Loeb of Third Point was instrumental in this hire.  Loeb's hedge fund controls 6% of the company's shares and likely has the support of several other shareholders – which means Mayer walks in with quite a powerful angel on her shoulder.  Because she's Loeb's pick, which means that his fate is now linked with hers.  Having the money guys have a vested interest in you never hurts.
4.  Mayer gets a change of scene.  Yahoo, while a competitor of Google's in a handful of areas (search, display ads, mail) is a very different company.  It's New York office, which in full disclosure is loaded with friends of mine, is more akin to that of a media company's than a tech outfit's.  Mayer also gets a whole new atmosphere at an interesting personal time for her (she's also announced that she's pregnant).
The bottom line is this: Yahoo is a bad situation strategically and corporately and it's getting worse.  Mayer can walk in the place and become a hero by fixing it. Or if this doesn't happen, well, Yahoo was already a mess and "too far gone" when she walked in anyway, there was nothing she could have done.  She'll hardly be blamed for poor decisions made over the prior decade and the culture of dysfunction she found awaiting her.
Marissa Mayer has walked into a No-Lose Situation.  I hope she savors it and allows this to embolden her in the turnaround effort. Because No-Lose Situations of this caliber are rare indeed.