I started talking about Target a few weeks back in media appearances as part of a new consumer retrenchment trend – lower-end store chains were benefiting while the bloom came off the rose for the high-enders and the luxury goods stocks.  Wal-Mart and Target were two names due for a run and Target finally broke above $59.50 resistance late last week.
Target is a large, well-run company with a few notable competitors gone over the last few years, a big 2.5% yield and it's the discount retailer that doesn't make you feel like killing yourself for shopping there (unlike K-Mart or Sears or JCPenneys, for example).
Obviously, with such a large and notable breakout, we're not the only ones on it, Bank of America Merrrill Lynch highlighted TGT in their latest Chart Talk research piece this past Friday:
(click to embiggen)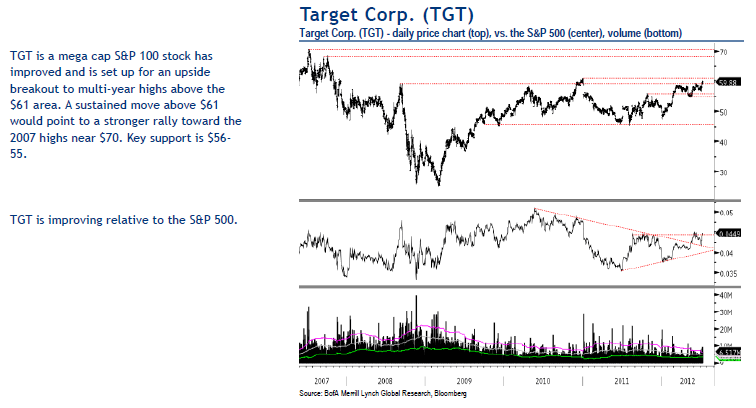 The next resistance level really isn't until 69-70 from five years ago.  I like these types of trades a lot when the fundamental story lines up with the technicals.