Didn't you get the memo?  Housing has turned.  Smart people have been telling you this for a little while now, including perhaps the most knowledgable voice on housing in the country, Bill McBride at Calculated Risk.  McBride has unequivocally stated that the only debate is about the strength of the recovery, not whether it's started.  He notes that the uptick in activity and starts will be precursor to rising prices.
And now, it's starting to become apparent to the crowd.
From Bespoke Investment Group: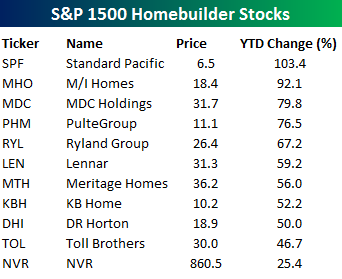 What does this mean for your investment thesis for the second half of this year and beyond?
Are you too bearish?
Are you forgetting that homebuyers borrowing at record-low rates really don't give a damn about Spain or Ireland?
Are you too close-minded to the possibility of renewed confidence across America as peoples most important asset stops dropping in price?
Are you keeping in mind the fact that people who move into a new home do a ton of spending in their local communities, that they buy furniture, garden stuff, carpeting, window treatments, fences, comforters and pillows, sheets, paint, roofing materials, outdoor grills, new kitchen appliances, washers and dryers, televisions, lawn care services, alarm systems, etc?
Have you considered what that wealth effect – the real wealth effect, not the fake stock market one –  could mean for everything else?
Is the housing market rebound factoring into your thinking yet?