There's a piece at the NY Fed's blog that everyone's buzzing about today, it concerns the S&P 500's upward drift heading into FOMC announcements…
From Liberty Street Economics:
The Drift: A First Take

The pre-FOMC announcement drift is best summarized in the chart below, which provides two main takeaways:

1.  Since 1994, there has been a large and statistically significant excess return on equities on days of scheduled FOMC announcements.

2.  This return is earned ahead of the announcement, so it is not related to the immediate realization of monetary policy actions.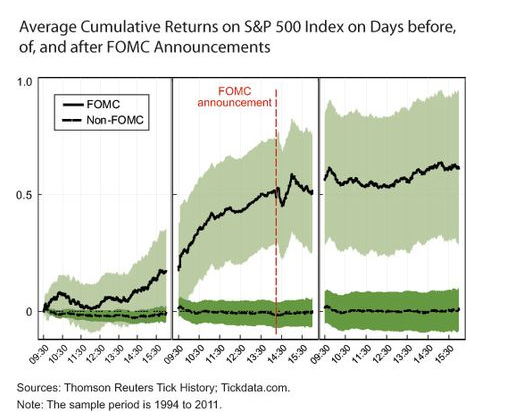 Head over for the whole thing.
Source:
The Puzzling Pre-FOMC Announcement "Drift" (Liberty Street Econ)