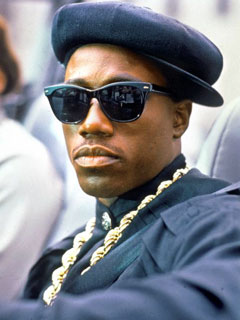 Fool, this is a JACK MOVE!
Like Nino taking over the Carter Projects* and moving the manufacture, warehousing and distribution of crack cocaine right into the heart of the inner city, Jeff Bezos is about to turn battered local retailers into dead ones.  Rock-a-bye, baby.
How do we know this?  After years of lobbying and lawsuiting against states like California and Texas who wanted Amazon to collect sales tax for their residents, the company suddenly and quietly capitulated.  They've announced that they are dropping their fight and will begin collecting state sales tax from customers this year.  Why would they give up such a sick advantage over traditional, earthbound retailers?
Because they're about to put the glock to their heads with same-day delivery.  Awww yeah.
From Slate:
But now Amazon has a new game. Now that it has agreed to collect sales taxes, the company can legally set up warehouses right inside some of the largest metropolitan areas in the nation. Why would it want to do that? Because Amazon's new goal is to get stuff to you immediately—as soon as a few hours after you hit Buy…
It's hard to overstate how thoroughly this move will shake up the retail industry. Same-day delivery has long been the holy grail of Internet retailers, something that dozens of startups have tried and failed to accomplish. (Remember Kozmo.com?) But Amazon is investing billions to make next-day delivery standard, and same-day delivery an option for lots of customers. If it can pull that off, the company will permanently alter how we shop. To put it more bluntly: Physical retailers will be hosed.
This is a much-read discussion about how this may play out, check it out here:
* I never do this, but here's the aforementioned jacking of the Carter Housing Projects: