The Tax Foundation is out with their latest look at the so-called "Fortunate 400", the nation's highest-earning individuals, based on their tax returns in the year 2009…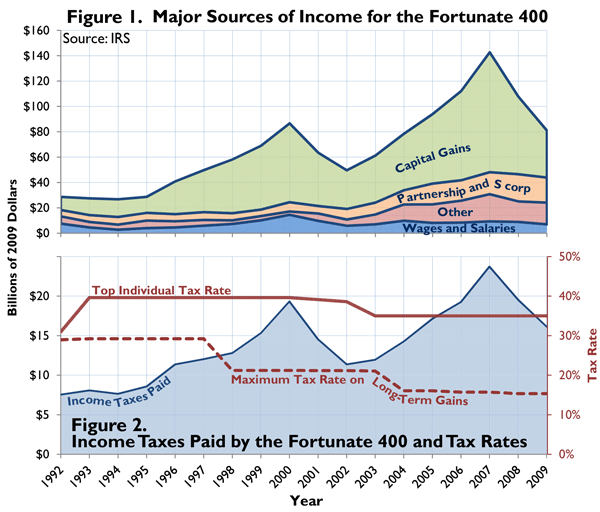 Figure 1 shows total adjusted gross income (AGI) for the fortunate 400, in real terms from 1992 to 2009, broken down by major source. Total income has more than doubled, from $29 billion in 1992 to $81 billion in 2009. On a per return basis, income went from $72 million in 1992 to $202 million in 2009.

Much of the growth and volatility in real income for top earners has come from capital gains. In the early 1990s, capital gains remained low at about $12 billion (in aggregate), but then climbed to $62 billion in 2000 at the peak of the stock market. They then dropped in half to $31 billion in 2002, peaked again at $96 billion in 2007, and collapsed again to $37 billion in 2009. In every year since 1994, all 400 top earners reported capital gains. The average top earner in 2009 realized $93 million in capital gains, down from $236 million in 2007.

The fortunate 400 pay more in income taxes than they receive in wages and salaries. This has been the case in every year since 1992 in aggregate and on a per return basis since 1993. But unlike wages and salaries, taxes have been going up for the fortunate 400. This can be seen in Figure 2, which shows that in real terms taxes doubled from about $8 billion in 1992 to $16 billion in 2009. Interestingly, this massive increase in tax revenue of about $8 billion has coincided with the reduction in both the top marginal rate, from 39.6 to 35 percent, and the capital gains rate, from 28 to 15 percent.
Trust me, these people are anything but "fortunate" – I've met or know people who know at least 5 guys on this list, they're only happy in spurts and bursts, just like you and I.  The pressure to keep all the plates spinning is not any lesser on the Fortunate 400, even if the amounts in question are much larger.  It's called "baseline happiness adjustment," look it up.
Source:
The Fortunate 400 (Tax Foundation)