Spain asked for and will likely receive a massive $125 billion bailout according to the headlines of this weekend.  Regular readers of this and many other finance blogs will not be surprised – the possibility of this intervention happening was always the number one reason why you couldn't be short.
Euphoria is manifesting itself in the opening trading for European futures this evening – they're indicating a plus-2.5% gap-up open for Old World stocks.  Tomorrow will be fun, but I'd be keeping the following items in mind:
1. "The firewall is just more debt," exclaimed an incredulous Jeffrey Gundlach months ago when discussions about peripheral Euro bailouts first became fashionable in the media.  This is exactly the kind of thing he was referring to.  The net level of indebtedness does not change, just the shifting of where the debt is held and who is taking the risk.  We have no idea where Europe comes up with $125 billion otherwise.
2.  Spain apparently busted some balls and made all kinds of threats, informing the EU that they are the 4th largest economy in the region and not just some bullshit 3rd World chump to be played with.  They also reminded their creditors how much more costly it would be to dally rather than pony up.  That shit worked.
3.  This brazen negotiation tactic will blow up in the Troika's face when Greeks head to the polls, not to mention when Ireland seeks to renegotiate their crushing-austerity-plus-bailout deal this month.  Then Portugal and Italy come to the table with brass balls as well.  This is the World Cup of moral hazard.
4.  Also waiting in the wings is the potential for China to stimulate or make some major policy announcements.  Shorts will be covering but it won't all be because of Spain, there is still plenty for them to fear in terms of intervention.
5.  But at the end of the day, the structural issues are not solved, indebtedness is still absurd and none of these economies is structurally any better. Nor are any of them growing.
6.  And then there's the matter of this little Merry-Go-Round from Hell, the cycle chart from David Einhorn's latest Greenlight letter to shareholders (hat tip Bryan for reminding me of it):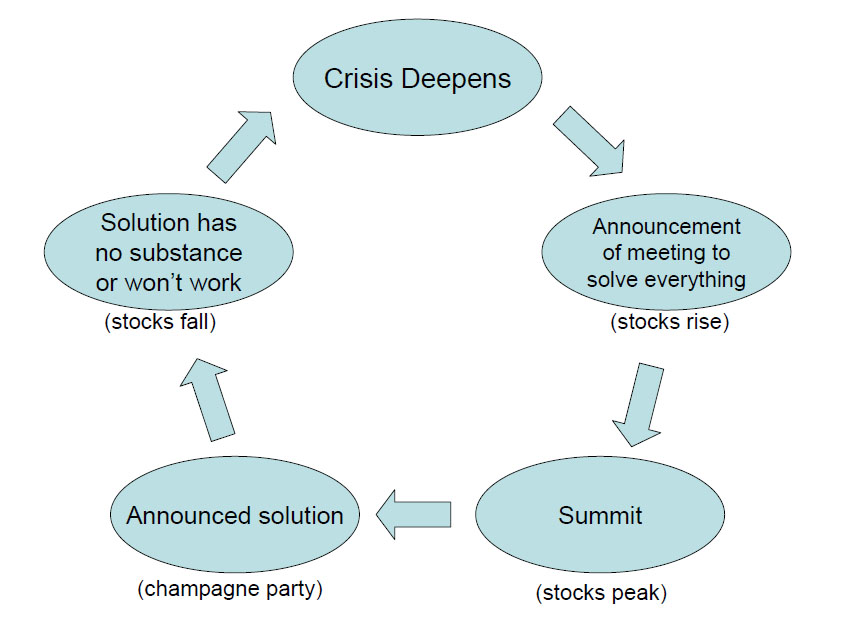 Enjoy your night and get some sleep, we're gonna need it!