Your boy's going to be at the Ira Sohn Conference at Lincoln Center for most of the afternoon.  I'll be taking notes for you guys and laying out as much of the investing ideas as I can, also doing a bit of live-tweeting here.
Last year, there were some really interesting ideas, the big winner was the short solar stocks thesis from Jim Chanos, those names have had an incredible decline over the last 12 months for exactly the reasons that Jimmy laid out.
Phil Falcone picked a winner in $XTXI.
The losers included Jeff Aronson's $CIT pick and Dinaker Singh's bullish bet on $S (oy vey).
For my full notes from last year, click here: Ira Sohn Conference 2011
Here's what you can expect this year: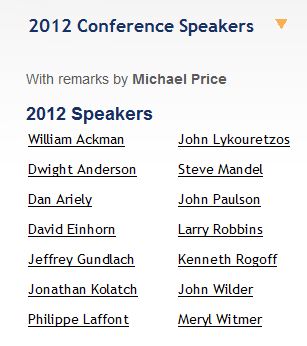 Pretty sick, right?
For more info on the conference and the foundation, click below:
Ira Sohn – About the Conference