Don't miss this crucial discussion of the fact that this quarter's earnings beat rate – while high historically – is masking the fact that earnings growth just ain't all that special…
From Greg Harrison writing at Alpha Now:
While a remarkable 72.4% of the companies in the S&P 500 that so far have reported their first-quarter results have beaten analysts' expectations – a figure that, if it holds up to the end of earnings season, would be significantly higher than the long-term average of 62% – that good news masks a slightly more bearish reality. While corporate earnings are still growing, it is at a pace that is lower than that of the fourth quarter of 2011, and a less than half that recorded during the first quarter of 2011. And as for all of those positive surprises, they aren't quite what they seem to be either, as analysts spent much of the first quarter cutting, slashing and trimming their earnings forecasts for the companies that they cover. So to the extent that those companies now are reporting "stronger than expected" earnings, it is just as likely to be because those expectations themselves have fallen as because the company has done better. Indeed, as the overall figures indicate, the average company in the S&P 500 is likely to have posted a more sluggish growth rate in the first quarter of 2012 than it did in the year-earlier period.
And in case you like pictures better than words…
S&P 500 Estimate Beat Rate and Earnings Growth Rate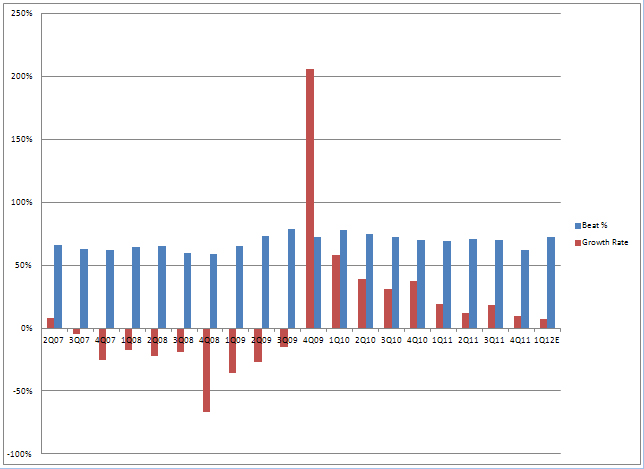 Source:
In Focus: Big Positive Surprises Due to Analyst Pessimism (Alpha Now)